For now, Google won't allow third-party apps to access Pixel 4's Motion Sense
7
One of the most promising new features that Google included with the Pixel 4 series is called Motion Sense. Using the company's Project Soli radar backed chip, the
Pixel 4
and
Pixel 4 XL
can be controlled using hand gestures. Right now, in regions where the Soli chip has received regulatory approval (like the U.S.), users can dismiss alarms, silence phone calls and skip streaming content with a wave of a hand above the screen.
Nine streaming services are compatible with Motion Sense at the moment (Amazon Music, Deezer, Google Play Music, iHeartRadio, Pandora, Spotify, Spotify Stations, YouTube Music and YouTube). It also will work with two demo apps,
Pokemon Wave Hello
and
Headed South
. The former allows you to use Motion Sense to wave hello to several Pokemon while the latter is a game that allows users to control a bird (appropriately named Soli) with Motion Sense.
Google raised expectations about Motion Sense and the feature seems underwhelming for now

Frankly, Motion Sense seems underwhelming at the moment. Back in June when
rumors first surfaced that the Pixel 4 family might use Project Soli in some fashion
, expectations ran high. It was thought that users would be able to make adjustments to the phone's controls with hand gestures as subtle as using the thumb and index finger as though one were winding an old-fashioned wristwatch. But this first incarnation of Motion Sense is quite limited and
according to Android Police
, Google has no plans to give third-party developers access to the feature. But that might change in the future. A Google spokesman said that it while third party developers are shut out of the radar based system right now, it will make an announcement once that changes.
Perhaps we were expecting too much from Motion Sense, especially the way that Google had hinted that the Pixel 4 series was going to challenge the best from Apple and Samsung. The feature is in its infancy and we will have to see whether Google broadens its capabilities with future updates. We also might learn more next May when Google holds its annual I/O developer conference.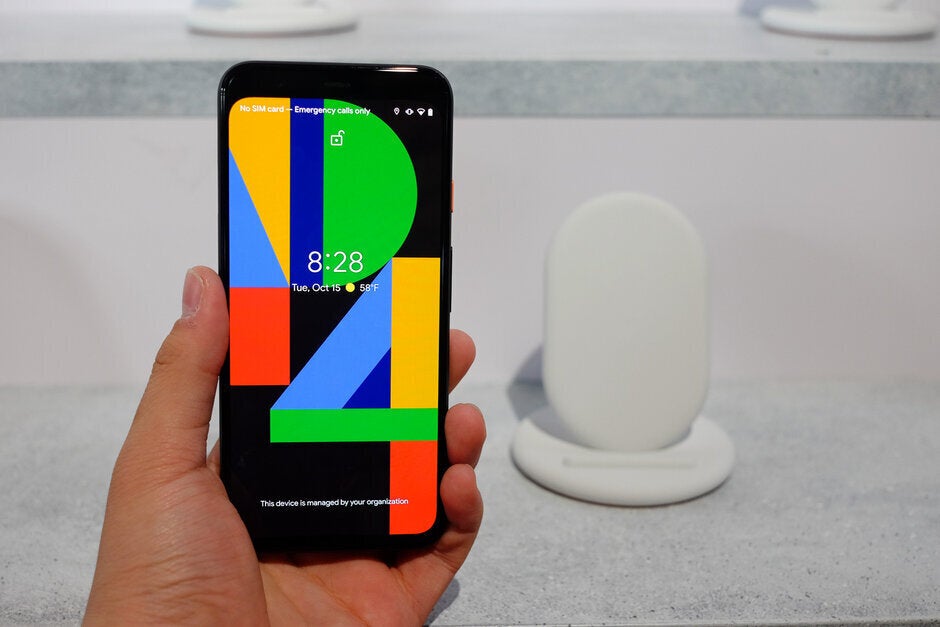 Motion Sense on the Pixel 4 seems underwhelming for now
While Motion Sense might have been a disappointment out of the gate, some Pixel 4 users are also unhappy with Google's Face unlock biometric feature. Similar to Apple's Face ID, the facial recognition feature on the Pixel 4 family flashes a pattern on the user's face using infrared beams and discrepancies in the pattern create unique 3D maps of the face. But unlike Apple, which demands that users be active with their eyes open to allow Face ID to work, Google allows Face unlock to open a Pixel 4 even when the user has his eyes closed. This could allow a bad actor to knock a Pixel 4 user unconscious and put the phone up to his face to gain entry to the handset. Or, in a less violent scenario, someone sleeping can have his phone put up to his face and even with the eyes shut, the phone will open. Google plans on sending out an update that will add an option allowing the user to require that his eyes be open in order to unlock the Pixel 4.
Like Apple, Google is relying totally on its "secure" facial recognition system on its latest handsets. Apple dropped Touch ID completely starting with the
iPhone X
in 2017, and all six iPhone models released since then had just one biometric security feature onboard: Face ID. Google has dropped the rear-facing fingerprint scanner that has been a part of the Pixel line since the first model was released back in 2016. Google even integrated Motion Sense into Face unlock. Let's say that your Pixel 4 is lying flat on a table. As you reach for the device, the Soli chip reads the movement and turns on Face unlock. Thus, in one smooth motion, without having to tap the screen, Face unlock can have your Pixel 4 unlocked quickly.