Third Apple Store opens in Beijing to long lines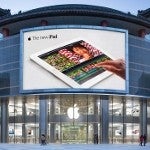 The Wangfujing Apple Store, the third one located in the
Chinese city of Beijing
, opened Saturday to long lines of residents and tourists who braved the bitter cold to make sure that they would get inside the store. The three story building includes Asia's first all glass stair case and the location is Apple's largest on the continent. The Wangfujing Apple Store is located in a historic district in a newly renovated shopping mall and inside there are 300 employees and two 360 degree Genius Bars. A huge LED display blinks messages.
The
Salitun store is where a near riot broke out this past January
when Apple was about to offer the
Apple iPhone 4S
in the store. A delay in the store's opening was announced and those who had waited in line started throwing eggs and rocks at the police. It would have been the first time that Apple's iconic smartphone could have been purchased at an official Apple Store in the country. Instead, following the incident, Apple limited sales of the Apple iPhone 4S in China to
those made online
or at the retail locations of China Unicom.
source:
M.I.C.Gadget
via
iPodnn