These are Toshiba's camera modules for Project Ara
17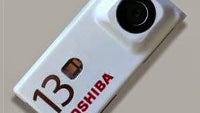 True smartphone geeks have all the reasons to be quite excited about Google's Project Ara, which will be attending this year's MWC.
Both the modular smartphone and a number of available modules for it will be showcased there - probably the
ingenious Li-ion battery
that is half the size of a regular one with the same capacity will be present, as well as the Ara modules of some other manufacturers. Who knows, maybe Toshiba will join the ranks of these with the camera modules for Project Ara that it recently unveiled.
The Japan-based company showcased a trio of camera parts for the Ara - a 2MP front-facing selfie snapper, as well as two regular rear-positioned cameras, a 5MP and a 13MP ones. The sensor of the former is 1.4um in size, while the larger module is 1.12um in size.
The parts are expected to get into mass production and be available to the wider public sometime next year, according to Toshiba's three-year development plans. This also falls in line with the purported wider availability of Project Ara. As you probably know, Google will be launching it in
Puerto Rico later this year
, but it's likely to expand starting 2016.
Unfortunately, there are no sample images from the modules, but at least we get to see the 5MP camera for Project Ara in action (check out the video below).