Startup comes up with a revolutionary battery tech - same capacity, half the size. Will be making modules for Project Ara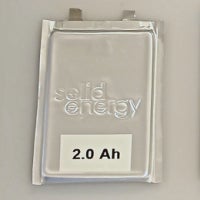 So, just last month, Google
announced
the first
Project Ara
handset that will become commercially available later this year – the Spiral 2. Well, it will only be offered in Puerto Rico, as the company wanted a small market to start the experimental project on. Quick reminder for those, who might not remember – Project Ara is Google's attempt to build a
modular
smartphone – one that has its hardware neatly segregated in various replaceable panels, which can be freely switched out on the user's whim.
One of the major concerns for one such phone is the battery capacity – after all, a small module can only hold that many cells, and it was noted, as the Spiral 2 was announced, that it will offer 20% to 30% less battery capacity than other products of the similar range.
Well, that may well be on its way of becoming a non-issue. SolidEnergy – a startup, founded in 2012, has been hard at work, trying to improve the way modem batteries are made. The company has managed to develop a super-thin metal anode with twice the energy density of graphite and silicon anodes that are presently used. This allows the batteries to appear "near anode-less", reducing their physical size to half.
SolidEnergy says it will be ready to commercialize the revolutionary battery in 2016, and it will be aiming at the mobile markets first – namely, it will look to create a module for Project Ara phones, which will provide more juice in the same package, but will likely try to sell its product to other major manufacturers as well. Additionally, in 2017, SolidEnergy will look to extend its solutions to the electric car market.
Thanks for the tip, Giulio!
source:
SolidEnergy
via
PhoneBlocks