Thermodo tiny accessory brings a real thermometer to your smartphone
6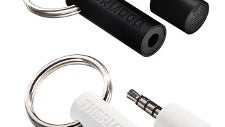 Getting exact information about the weather situation is something that smartphones are particularly good at. But with a lack of a built in thermometer, they can only get their information from weather stations that may or may not be close to you. In fact, depending on where you live, the closest weather station might miles away and not actually showing relevant to your position weather.
That's where a new Kickstarter project comes to save the day. It is called Thermodo, and it is a tiny mercury-free thermometer that you attach to the 3.5mm jack ono your smartphone. What's more, it's pretty affordable with a $19 pledge securing you one when it launches (expected to happen around August).
The $19 offer is for the quickest out there, and with limited availability you might need to donate at least $25 to get it (plus shipping). But that still fares pretty affordable on our scale. Thermodo comes with a keychain so you can have it with you everywhere and it just seems like one of those things that should come pre-installed in a smartphone.
Hit the source link below to learn how to support the project.
source:
Thermodo on Kickstarter