There will be no 7" Windows 8 tablets in the foreseeable future
20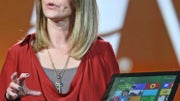 Well, well, well, it seems someone isn't really into that whole 7" tablet thing, eh? Microsoft may actually turn out to be an even bigger hater of small tablets than Apple. This is what we can make of a recent statement made by the company's Windows Group CFO, Tami Reller.
During an interview with Nate Lanxon of Wired UK, Mr. Reller said that that the company and its partners are currently focusing on the 10" tablet space. When asked if that means that there are no current plans for 7" Windows tablets, Reller replied with "Correct."
It is not entirely sure if the statement goes for Windows 8 and Windows RT tablets alike, but it is believed so... which is a shame, is you ask us, because 7" or 7+" Windows RT tablets really make sense. With a smaller screen (and lower price), people are less likely to use such a tablet for productivity purposes and more likely to be OK with using it as a consumer device - mainly for web browsing, reading, music, a bit of gaming, etc.
Still, we guess that at least some of Microsoft's partners will be willing to produce small Windows tablets at some point, considering the relative success of the popular Android tablets like the
Kindle Fire HD
and
Nexus 7
.
via:
Neowin