The world's most and least compact flagships relative to their screen size
97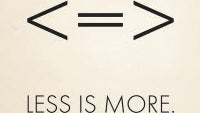 It feels like it was just yesterday that the press and the entire industry was in a row with manufacturers over what an acceptable smartphone screen size actually is. Do you remember phones like the 4.7-inch
HTC Titan
, or the slightly smaller, 4.65-inch
Samsung Galaxy Nexus
? Many were outraged! You can barely reach the status bar when holding the phone with one hand, they said. Back then, those were the very biggest smartphones on the market.
Fast-forward to today, and it's like a different world altogether. A 4.7-incher is honestly very close to being tagged 'compact', and we have smartphones that really smashed our yesteryear-ly ideas of what is actually acceptable. But we're reaching a physical limit, make no mistake about that. After all, your fingers can only stretch so far. And yet, thanks to further and further improvements in design and overall efficiency, smartphone screens are continuing to grow, irrespective of our own physical limitations. We're now no longer simply looking for a big-screened device, but also one that makes a darn good use of... well, space. Yeah, that coveted edge-less, or bezel-less if you will, design is what we're talking about.
So how are companies doing? Well, for starters, we're still pretty far from having absolutely bezel-free devices, and we're not even sure that's such a practical idea. Anyway, and regardless of the previous, manufacturers
are
getting closer. For this pick, we set out to measure the screen-to-body ratio of pretty much every flagship we could think of, from mainstream brands, down to ones that are still fighting for recognition on the world stage. What's more, we ranked them by just how much 'bang for your inch' you get. A totally new category, we know. So, without any further ado, let us show you the world's most compact flagships relative to their screen size!
Note: Results are approximations, given how an advertised 5-inch screen can sometimes actually measure in at 4.95 or 5.04 inches, for example.