The world loves apps more than burgers, infographic suggests
3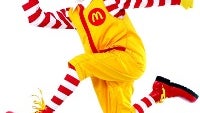 The rise of McDonald's burgers has been slow but steady – the franchise took nearly
half a century to sell a hundred billion burgers
. But today's mental staple food - apps - don't have that time. With a smartphone in nearly every pocket have they managed to outpace our need for burgers? Well, not that those two are somehow interchangeable, but this infographic does well in illustrating what a brilliant job Apple and Google have done in distributing apps as both are well on track of delivering its 100 billionth application.
While now the
app download count
stands at some 15 billion for Apple, a milestone proudly announced by the company a couple of weeks ago, the rate at which users download application is only speeding up. Actually, if it follows the envisioned pattern, in a mere five years and a half since its launch the App Store may reach McDonald's 100 billion mark.
You might wonder where does that leave
Android
and rightly so. The platform has been enjoying booming popularity as it covers devices from the low-end to high-end, and subsequently app downloads are growing even faster there. The time span expected for it to reach the same milestone is just 3.5 years. Bottomline seems to be that you could only eat so many burgers, while app gluttony with a 100 billion apps might seem insatiable. Have you found your app downloads growing with time?