The stylish and super-secure Blackphone 2 goes for pre-order ahead of September launch
7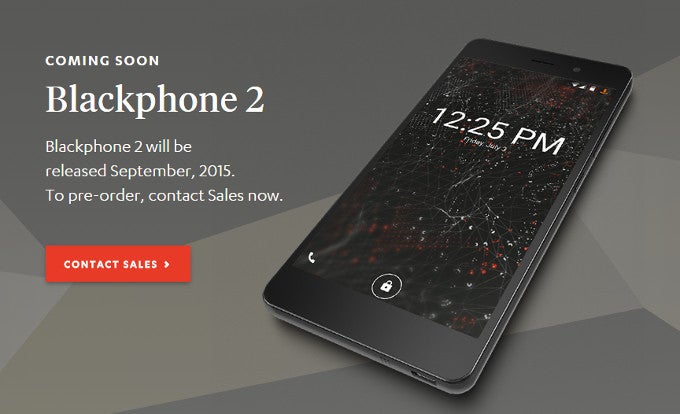 Smartphone owners are generally united in their concerns over security and privacy, and while the likes of Google and Apple develop their respective mobile platforms under the watchful eye of the consumer, flaws and security breaches come with the territory. BlackBerry has always prided itself on providing a secure environment, particularly for businesses, while Samsung's Knox has sought to bolster Google's Android in efforts to grab a slice of the enterprise pie.
The Blackphone
, as you may recall, was launched just over a year ago, touting a feature set almost as robust as its security credentials. Despite
put-downs from BlackBerry
, the Blackphone's sales pitch was apparently strong enough to warrant a sequel, and if you're in the market for a handset that goes that extra mile in the name of security, you'll be pleased to learn that the Blackphone 2 is now up for pre-order.
Created by Silent Circle, the
Blackphone 2
will arrive with a 5.5-inch 1080p display, a 1.7 GHz octa-core processor, 3 gigs of RAM and a 13-megapixel rear shooter. There's also support for quick charge, and while the smartphone market seems to be ditching the microSD slot as something of a trend, the Blackphone 2 does support expandable storage.
Silent Circle's very own Silent OS runs atop Google's Android, although has been known to restrict the Big G's mobile software beyond recognition. The original Blackphone didn't include Google Apps support, nor could users get into the Play Store. While the second-gen model will see Silent Circle join the Android for Work program, it remains to be seen whether users will be able to access Google Play and enjoy a degree of familiarity.
As we heard way back in October, there's a
tablet edition being developed
by the name of the Blackphone+, but while there's no ETA on the slate, the Blackphone 2 will drop next month. To pre-order, you'll need to hop on the Silent Circle website before filling out a few details, and if you are interested, you can discover more at the source.
There's no word on price as yet, but since the original model retailed at $630, we'd expect a similar bracket this time around.