The smallest Android handset is available from Amazon with a 2.4-inch screen and low-end specs
14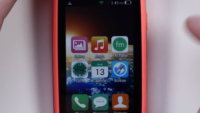 Following the success of the
Apple iPhone SE
, we could be in for a flood of smaller-screened handsets making their way to the marketplace. The difference is that despite the smaller 4-inch screen on Apple's device, the rest of the iPhone SE carries specs equal to the flagship
Apple iPhone 6s
. On the other hand, we don't expect that many of the new small-screened models will come with specs that will wow us. Consider the Posh Mobile Micro X S240. This is an Android powered handset that comes with a 2.4-inch screen. To put that in perspective, the display is even smaller than the 2.81-inch screen found on 2007's
LG Voyager
featurephone.
Unlike the powerful hardware on the iPhone SE, the rest of the specs on the Posh Mobile Micro X S240 will make you feel like Marty McFly heading back in time. The phone is powered by a MediaTek MT 6572M SoC with a dual-core 1GHz CPU, and includes 512MB of RAM and 4GB of ROM. There is a 2MP rear-facing camera (less than the 3.2MP camera on 2008's
LG Dare
) and a VGA (.3MP) front facing camera. A 650mAh battery keeps the lights on, and Android 4.4 is pre-installed.
The phone is available from Amazon in black for $52.55, a 42% price cut from the usual $89.99. In blue, pink or white you can make the purchase for $49.99, a 44% cut in price. And Posh will even throw in a coupon good for $15 off your next Uber ride. If you are interested in a small Android phone as a back up, to give the kids, or even as a conversation piece, click on the sourcelink.
source:
Amazon
via
BGR