The rumored iOS 8 split-screen multitasking for the iPad gets a video demo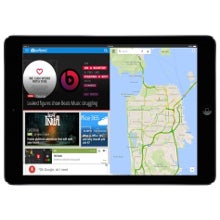 One of the rumored
iOS 8
features that didn't materialize was
split-screen multitasking
, but word on the grapevine is that it will get announced together with a new iPad in the fall. It makes much more sense for the larger tablet display than on a puny phone screen anyway, so there might be merits to this speculation.
In fact, developer Steve Troughton-Smith
found hidden references in the iOS 8 code
which hint that split-screen multitasking is in the works. According to him, the Springboard iOS homescreen launcher has programming lines that mention "main-screen-canvas-sizes", essentially indicating how two apps can run side-by-side, sharing the iPad's screen. Apparently, at the moment the code already allows for each app to take up half the screen, or one to use a quarter of the display, and the screen that has two side-by-side apps will appear as one item in the running apps menu.
The developer even dug out the specific sizes for each option: 1/4 screen being about 341pt, 1/2 screen as 512pt, 3/4 screen as about 682pt in width, and the expected 1024pt as fullscreen. The windows would, naturally, be resizable, so you can snap them in the ratios listed. If you have been wondering how all of this might look in practice, Steve Troughton-Smith has now created a video demo that takes advantage of the existing iOS 8 code to resize an app in the preset dimensions for split-screen multitasking that are evidently already embedded in the code. Check it out, and imagine a second app running at the empty space left on the screen while he does the resizings.