The location tracking scandal: Do you feel anxious about your privacy?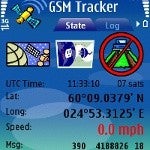 There's no doubt that the
location tracking scandal
rocked the smartphone community. The very fact lawsuits against both
Google
and
Apple
were filed speaks for itself, not to mention that
Steve Jobs felt compelled to hit back
at the accusations - after which
Apple released an official Q&A
on the issue.
This scandal has resonated far beyond the pages of the tech blogs, so it's time to ask you - most of you devoted smartphone users - what are your feelings on the location tracking scandal: