Apple customers file a class action suit regarding location tracking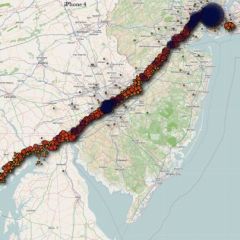 While we love our technology, there's inevitably something about it that scares us. It used to be an apocalyptic Y2K glitch, and now it's privacy. But, as we've learned, the privacy issue is more realistic. In the latest consumer scare, Apple customers have been informed that their locations are
being tracked
by a sneaky tracking file.
And some opportunistic
Apple customers have already filed a class action suit
. We're not saying that
Apple
shouldn't be held accountable for their potential breach of consumer privacy/trust, but the plaintiffs have really jumped the gun.
Vikram Ajjampur and William Devito filed the suit on April 22nd. Had they waited until a formal investigation had been carried out, their claim might look more justified. But it instead looks like an opportunistically litigious knee-jerk response.
Apple is very good about covering its bases in Terms of Service and Software License Agreements. But we don't know how regulators will feel about this. What do you think? Do you even care if Apple tracks your location without 'proper' notice?
source:
MobileCrunch