Steve Jobs says Apple devices do not track a person's location, but Android phones do
89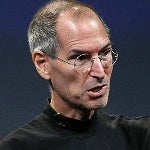 Playing that old schoolhouse game, "I'm rubber, you're glue. Anything you say bounces off me and sticks to you," Apple CEO Steve Jobs said that all of those fears about iOS devices tracking you and secretly keeping tabs of your location are not true. He went on to say that those fears should be directed at Android phones.
In a email sent by a
MacRumors
reader, Jobs was asked, "It's kind of unnerving knowing that my exact location is being recorded at all times. Maybe you could shed some light on this for me before I switch to a Droid. They don't track me." "
Oh yes they do
." Jobs replied. "We don't track anyone. The info circulating around is
false
."
While Jobs statement doesn't seem to account for some location-based data that is saved on the iPhone and 3G versions of the iPad, that data is not 100% precise. On the other hand, Android is said by analyst
Samy Kamkar to transmit expected location data, a hardware identifier and the location of nearby Wi-Fi hot spots. While Google has rejected this claim, and said, "
Any location data that is sent back to Google location servers is anonymized and is not tied or traceable to a specific user," the Mountain View based company said that in theory, it is possible for a third party to grab the data and use it to identify a specific person.
We're pretty sure that we haven't heard the end of this story. There could be some more back and forth bickering and finger pointing before this all fades away.
source:
electronista