The extra side keys on the G7 and S9 should serve a higher purpose (poll results)
4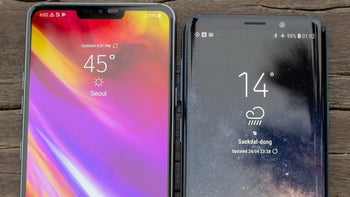 It turns out that extra side buttons, apart from the lock key and volume rockers, may not be such a good idea, after all, especially in their trendy reincarnation that launches digital assistants on the
Galaxy S9
, or the new
LG G7
.
Granted, they use different virtual helpers - Samsung's button launches its own Bixby butler, while LG bets on the tried-and-true Google Assistant, yet just 10% of our poll respondents on the virtues of extra clicky physical keys on the sides, think that assistance function will be put to good use.
More than half of our respondents are liking the trend of more side buttons, but would prefer that the companies give us an option to use them for other duties. LG told us during the prebriefing that they will be listening to feedback from users, and provide other mapping options if there is strong enough user demand for it, which sounds like the right approach.
Still, over a third of you think that sides that are peppered with keys ruin the looks, and sometimes the ergonomics of today's premium phones, so makers could take notice, no matter the urges to peruse the monetizable data collection that all digital assistants carry with them.