The best dual SIM phones (2015)
15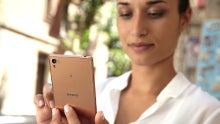 Phones that can maintain two carrier network connections at once have been around for a while, lurking in the shadows of mass adoption anywhere but emerging markets, where those are very, very popular. So popular that there are local brands you've never heard of that make boatloads of them.
If you want to take advantage of two good carrier plans at once, use one number for family and friends and another for work, or simply can't resist that great new data plan, but your contract still has mileage left in it, a decent dual SIM phone might come to the rescue.
For the first time in smartphone (or any phone) history, we get to have dual SIM devices that aren't light years behind the market flagships. In fact, we are getting those same flagships outfitted with two SIM card slots this season, and we have the proliferation of Android handsets in dual SIM havens like China and India to thank for that.
There's never been such a choice of dual SIM phones that are actually up for anything you'd use a modern day Android at, or such great value-for-money offerings that can connect to more than one cellular network at once. That is why we are rounding up the best dual SIM handsets money can buy this season, for the times when one Subscriber Identity Module just won't cut it.