The Woz sees more iOS in the office next year
11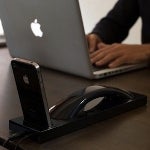 Apple co-founder Steve Wozniak sees more iOS devices
going to work in 2013
as the BYOD (Bring Your Own Device) trend continues next year. Wozniak sees no sign that the BYOD movement is slowing down. Additionally, with many companies and government agencies deciding to drop BlackBerry in exchange for the Apple iPhone or Android powered devices, these firms have had to decide between security and corporate morale. "
Choice
," says The Woz, "
is happiness and will become a motivational tool enterprises use to their advantage
."
failing both at inopportune times and at an unacceptable rate."
As a result, the agency is switching to the
Apple iPhone 5
.
Yahoo CEO Marissa Meyer is giving her employees the opportunity to pick
from the
Apple iPhone 5
, the
Samsung Galaxy S III
, the
HTC One X
, the
HTC EVO 4G LTE
or the
Nokia Lumia 920
while dropping BlackBerry. And the
U.S. Immigration and Customs Enforcement agency (ICE) is going to order $2.1 million worth of the Apple iPhone 5
to replace BlackBerry handsets. These are just a few examples of what is going on. Heck, we've even seen
iOS takeover in the cockpit to replace paper maps
.
In addition to this trend, with more and more employees being allowed to use their own personal phones at the office, this paves the way for the presence of more iOS models in the boardroom. It makes sense as most employees know their own handsets better than corporate-issued devices and that should improve productivity at work.
source:
Slashdot
via
TUAW