The man at the center of the Facebook scandal talked last night on CBS' 60 Minutes (VIDEOS)
13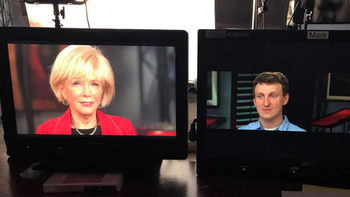 If you've been following the Facebook-Cambridge Analytica scandal, you surely have heard the name Aleksandr Kogan. He is the Russian-American researcher who developed the app
that grabbed data from millions (87 million at last count) of Facebook subscribers without permission
. He then turned that information into psychological profiles and allegedly sold that data to Cambridge Analytica, a consulting firm hired by the Donald Trump campaign. With this information, the campaign was able to place ads and hold events with surgical precision.
It enabled Trump to win the election by 40,000 well-placed votes
even though Hillary Clinton received 3 million more popular votes than Trump did.
Kogan was the subject of a piece run last night on CBS'
60 Minutes
television show, and during an interview with Leslie Stahl he was asked whether he actually sold the information to Cambridge Analytica. Kogan said that while the data was sold to the consulting firm for $800,000, personally he received nothing from his company for collecting the personal data. He thought at the time, that he was doing everything correctly. "You know, I was kinda acting, honestly, quite naively. I thought we were doing everything okay," he said.
When told that Facebook accuses him of lying to the company, Kogan said that this was frustrating. He claims that he never would have done the things he did had he known it would ruin his relationship with Facebook (he is banned) and hurt other people. The researcher admits that he knew these profiles were going to be used for the election to help the Republicans win. And while former Trump lackey Steve Bannon was reportedly in charge of Cambridge Analytica's use of Facebook data for the Trump campaign, Kogan claims not to have heard the name while putting together his package for the consulting firm.
During the course of the interview, Kogan said that there are tens of thousands of apps similar to the one he created to mine profile data. He said it was a Facebook feature called "friend permissions," that allowed users to give permission for their friend's data to be scraped. Even though the friend never agreed to opt-in, his/her data was snatched by Kogan and turned over to Cambridge Analytica. During the interview, Kogan says that Facebook is really to blame for this mess because it gave people like himself the tools to collect personal information. "This was not a hack," he said to CBS' Leslie Stahl. "This was, here's the door. We're giving away the groceries."
"So I create this app where people sign up to do a study. And when they sign up to do the study, we would give them a survey. And in the survey we would have just this Facebook log-in button. And they would click the button, authorize us. We get their data...we would collect things like their location, their gender, their birthday, their page "likes" and similar information for their friends. And all of this...they didn't opt-in explicitly."-Aleksandr Kogan, Russian-American researcher on Sunday's 60 Minutes broadcast
Facebook is in trouble since it apparently violated a 2011 consent decree signed with the FTC that prevents the company from mining profile data without the user's permission. As for Kogan, he might end up embroiled in Special Counsel (got that right!) Robert Mueller's probe.
Take a look at some official CBS clips from the show. You'll find them directly below.
source: CBS (
1
), (
2
), (
3
), (
4
), (
5
),