The Rufus Cuff puts a 3.2-inch screen on your wrist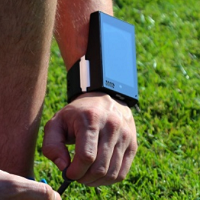 The Rufus Cuff, which originally came hat in hand to Indiegogo last year, is now available for pre-orders at $249 a pop. The manufacturer calls this a "tablet for your wrist," and with a
3.2
-inch Gorilla Glass display, this is nothing like the smartwatch experience. In fact, Rufus Labs says that it "ends the era of the watch and ushers in the Wrist Computer."
The Rufus Cuff can do anything that a connected device can do, from surfing the internet, sending an email, to streaming music or a video. The device features a front-facing camera and pairs to your iPhone or Android smartphone to make/take calls. When connected to a Wi-Fi network, your Rufus Cuff becomes a stand-alone device that will handle phone calls without being paired to a handset.
The Rufus Cuff is pre-installed with Android 4.4, allowing you to install your favorite apps. And you can use them in both portrait or landscape orientation. A full virtual QWERTY keyboard makes messaging easy. The device comes with 16GB/32GB/64GB of internal storage, allowing you to build a decently sized music playlist, or you can listen to tunes from your paired phone. 1GB of RAM is inside.
The Rufus Cuff gets you from place to place using GPS, and the device is dust, water and shock proof. It also supports Wi-Fi connectivity and uses industrial grade velcro for a secure fit. You can pre-order the Rufus Cuff by clicking on the sourcelink. Your color options are Jet Black, White Out, or Turbo Red Rufus.
Want a wearable that is more than a smartwatch? The Rufus Cuff is exactly what you're looking for. The device starts shipping next month.
Thanks for the tip!
source:
Indiegogo
via
DigitalTrends