The Room Two is now available for Android, puzzle-solving ensues
5
The Room Two, the successor to The Room, has finally arrived on Android-powered devices. The Room Two, a critically acclaimed BAFTA nominee, was initially launched as an
exclusive title for the iPad
, and
several weeks ago, it became an universal iOS app
.
Just like The Room, The Room Two is a macabre puzzle game. Each level of the game consists of a single eerie room. In the middle of the room, there is a mysterious locked box for you to open. Well, this might sound rather easy to some, but it's quite the opposite – these boxes are a hard nut to crack. You'll have to solve various puzzles, riddles, and search each room for different clues on how to unlock its mysterious box. Just as you might've guessed, the difficulty of these brain-teasers will increase along with your progress – from light-hearted puzzles in the beginning to almost impossible-to-solve enigmas later on.
As if this is not enough of a challenge, players will have to face a mysterious scientist, called AS. He communicates with the gamers via encoded letters and his true intentions are not quite clear.
The Room Two is said to be at least twice as long as its prequel. In addition, although the overall graphical style and atmosphere have been kept the same, the graphics of the game have been greatly improved in comparison with its prequel.
Both the Android and the iOS version of the game are priced at $2.99. The game is totally worth it and we recommend that you check it out.
Download: The Room Two (
Android
|
iOS
)
The Room Two screenshots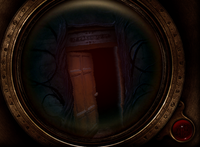 via:
Pocket Gamer