The Razer Phone is now available for purchase in the US
17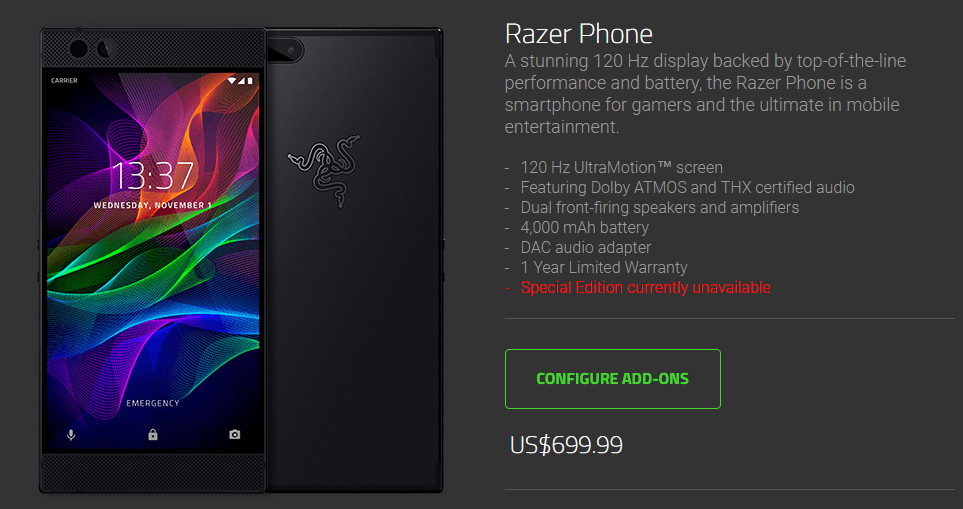 A few days ago
Razer opened pre-registrations for its first smartphone
so that customers could get notifications as soon as it would become available for purchase. If you haven't expressed your interest in the device by now, you'll be pleased to know that the Razer Phone is now available for purchase in the United States.
For the time being, you can only get it via Razer's online store, but at some point, it will arrive at Microsoft brick and mortar stores. As previously announced, the Razer Phone can be had for $699, which isn't too high of a price considering its specs.
While the
Razer Phone
is not necessarily the first smartphone aimed at "hardcore gamers," it surely is the first phone to pack a 120Hz display. The rest of the Razer Phone's specs are no less impressive either: 8GB RAM, 4,000 mAh battery, a dedicated Hi-Fi DAC and stereo speakers.
If you plan on getting it right now, Razer offers for a limited time free shipping to the United States for all orders over $49. Also, you'll be getting a 1-year limited warranty. Keep in mind that the Special Edition is not yet available, so the standard model will have to do for now.