The OLED iPhone 8 curves may be smaller than Samsung's, 5.2" viewable area tipped
19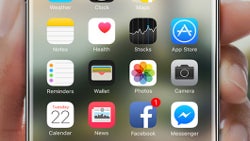 All the rumors that Apple is experimenting with a
new touch control paradigm
for the sides of the rumored
OLED iPhone 8
with curved display may have been referring to various prototypes Apple always has in its labs, according to Nikkei sources from the supply chain. The insiders claim that the iPhone 8 will have an OLED screen with a 5.2" viewable area that will be ever so slightly
curved on all sides
, purely for aesthetic purposes, with no new touch functions introduced for the sloping sections, let alone news tickers like on the first
Note edge
. This screen size is close to the
5.15" diagonal
tipped by famed Apple analyst Ming-Chi Kuo as well.
In fact, the source claims that the bendy panels atop of the iPhone 8 will be curved even less than what Samsung did with phones like the
S7 edge
. Samsung itself
restricted the curve amount
and angle on the
Note 7
compared to the S7 edge, and is expected to do the same with the
S8
, relegating the sloping edges mostly to beauty duties, rather than a tangible functionality. Apple is tipped to follow suit, and may also slap a slightly curved glass back panel that will be supplied by its traditional partners Biel Crystal and Lens Technology. This corroborates yesterday's rumor that Biel will
provide Apple with "thermoformed" glass backs
for the iPhone 8, too.
The Nikkei source reiterates once again that a lot of the commotion around the eventual OLED iPhone 8 is still in flux in Apple's labs, which in its turn coincides with what
Macotakara claimed the other day
. The Japanese tipped that Apple is still toying around with many prototype ideas, but in the end what it will come up with may not be as drastic as rumored, or that the iPhone 8 with OLED screen may only be announced in September, but released at a later date. Plenty of time for Apple to clear it up, and we'll keep our eyes peeled for any new developments. One point is for sure, though - an OLED iPhone 8
would be pretty expensive
.