Ming-Chi Kuo: iPhone 8 wireless charging a sure thing, new touch controls may be in store
62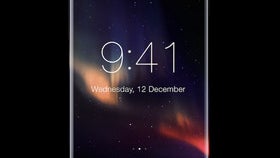 The purported unique 10th anniversary edition of the Apple iPhone is shaping up to be one for the ages. Dubbed tentatively the
iPhone 8
or iPhone X to differentiate it from the regular LCD-equipped
iPhone 7s
and
7s Plus
upgrades (again tentative names), it will eventually ship with a
wraparound flexible OLED display
, huge battery and dual camera.
Analyst Ming-Chi Kuo, who has a proven track record in predicting upcoming iPhone features based on supply chain sources, now adds wireless charging to the mix as a sure thing, both for the
iPhone X
, and for the 7s and 7s Plus. The issue, however, is that the OLED iPhone is said to be all-glass, with only a thin
stainless steel frame sandwiched in-between
. Here came the challenge for Apple's engineers, tipped the analyst, as wireless charging generates heat, and glass is a poorer heat conductor than metal.
In addition, Apple is reportedly prepping a brand new 3D Touch experience on the all-glass phone, which would require a new layer of film, and that one is apparently more prone to heat than the existing solution on iPhone 6s/7. Therefore, says Ming-Chi Kuo in a note to clients, Apple will be installing a graphene sheet in the upcoming iPhone 8, to help dissipate the extra warmth generated by the wireless charging coil, and prevent heat damage.
Of course, the end iPhone user doesn't really care what extra laminated layer has Apple installed to prevent overheating, but they might notice the enhanced 3D Touch experience that the analyst talks about. For us, this is the more interesting take from his memo. Wireless charging is not all that exciting, unless Apple has cracked the code of charging your iPhone from across the room without frying your brainwaves in the process.
A brand new 3D Touch layer that would differ from what's on other iPhones, though? Could it be that the rumors about a new way of navigation and interaction with the iPhone 8, including a move to
touch-sensitive volume and other buttons
hold water? Now this would be something to shout from the rooftops, and there are all indications that Apple is cooking something unique for the 10th iPhone anniversary, and not only in terms of hardware or design changes.