Poll results: Do you like the Note 7 design story?
23
The
Note 7
employs a lot of improvements for Samsung when it comes to design. It is made with the upscale 7000-series aluminum, and employs the shortest, steepest curve radius from all Dual edge screen phones from the company so far. It is also waterproof and is the first phone with Gorilla Glass 5. That is why we asked you what do you think of the Note 7 design this time, and the overwhelming majority - 79% - of our respondents are positive about the looks and feel of Samsung's latest and greatest.
Did you know, for instance, that the Note 7 is employing the
toughest 7000 series aluminum alloy
for the frame and the sides? That would make it 1.3 times stronger and 1.2 times more scratch-resistant than the metal which Samsung used for the
Galaxy S7
. Moreover, in order to leave the most flat space for the S Pen to draw on, and to make this the narrowest Note ever, Samsung employed a rare
3D thermoforming
process, producing the steepest "edge" sloping of a curved display it's ever done, as you can see below.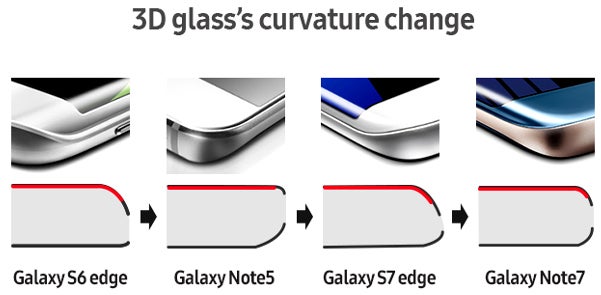 Adding to the toughness of the Note 7 is the usage of the
Gorilla Glass 5
for surface protection - the Note 7 is
the first phone
that ships with Corning's newest material - and the waterproofing of the handset. In addition, the Galaxy Note7 employs a one-glass screen, where the touch sensor is directly printed on the display panel, making the touchscreen more responsive, and the display package overall thinner, brighter and lighter.
This time, however, the glass of the front and back is curved exactly with the same 0.5mm radius, and fuses seamlessly with the metal frame around the sides, instead of sticking out, like on the Note 5. The camera protrusion has also been shaved off significantly, and the overall impression is for one sleeker, more polished device that is on top of that the most compact and easy to use with one hand Note ever.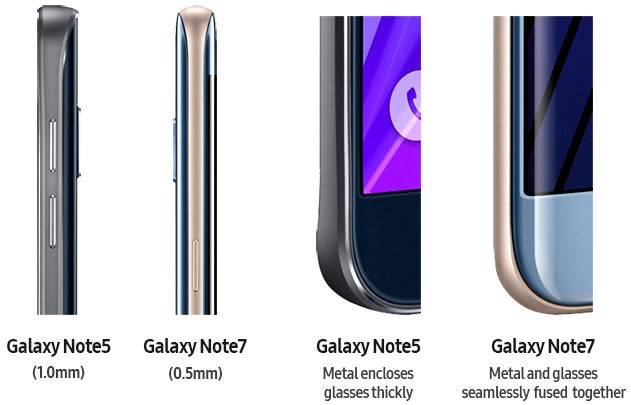 Oh, did we mention the funky new Blue Coral hue? According to Samsung it "
follows this year's color trends, which are less vivid and more tranquil
," though we wouldn't call the employment of the golden metal frame "tranquil" against the relaxing blue - it just looks good, and is the first time Samsung is using a separate color for the metallic frame.