The Microsoft Lumia 950's Super sensitive touch screen – neither super, nor that sensitive?
24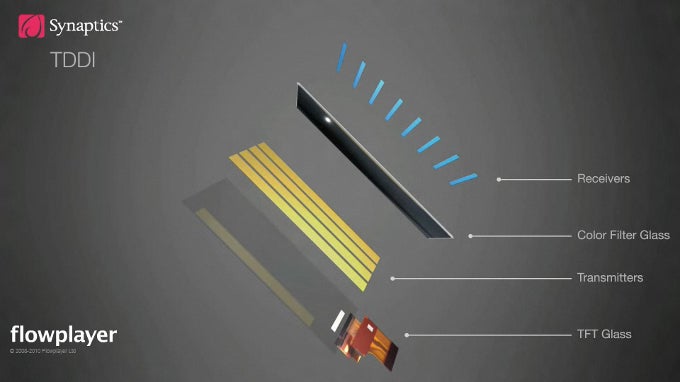 Back in 2012, Nokia introduced a tech it called
Super sensitive touch
– a way of constructing a smartphone's display panel so that it would be able to pick up user input, even if it's done with hands covered behind thick gloves. The tech then launched with the Lumia flagship of the time — the
Lumia 920
— and continued on to the
Lumia 930
. And, according to some Microsoft promotional materials, it is also present on its latest top-shelf smartphones – the
Lumia 950
and
Lumia 950 XL
.
Well, since winter hit, users have noticed that their Lumias don't seem to work so well with gloves as they were supposed to. French media theWINdose heard those complaints and dug through the official Lumia spec sheets, found on Microsoft's web site, only to discover that, while older Lumias have the "Super sensitive touch" technology advertised right there, the Lumia 950 and 950 XL do not. Instead, their line reads "Touch screen technology: Capacitive multipoint-touch".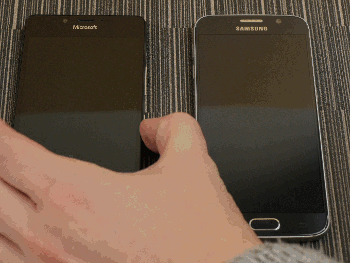 Of course, we had to confirm, so we took a piece of cloth and tried to unlock our in-office Lumia 950 with it. It was pretty unresponsive, especially when compared to the Galaxy S6 that we grabbed at random – the latter phone was able to read user input, albeit with a bit of effort. The Windows 10 flagship barely reacted to our attempts to get through the lock screen.
Some are speculating that the feature has been software-disabled in order to lessen battery drain in Windows 10, however, Lumia 930 owners argue that Super sensitive touch still works on their handsets, despite the fact they have upgraded to Windows 10. And, as we said earlier, Super sensitive touch is a feature achieved by the hardware construction of the display panel, not some software wizardry. It was developed by Synaptics and basically merges the screen's capacitive layer with the actual display unit, creating a number of benefits – a thinner overall display panel, more brightness for less battery power, and, of course, superior sensitivity, which can discern weaker input signals.
OK, so some tech may have been omitted from the construction of the new Lumia flagships in favor of something else – while a sad point, that's not something rare in the world consumer products. However, what's pretty bad here is that Microsoft's own Store page does list the Lumia 950 and 950 XL as having Super sensitive touch.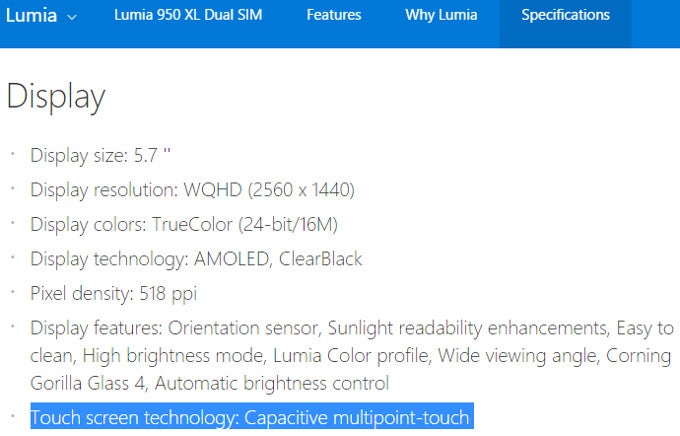 So, is this a case of copy-pasting on the official website, without much attention to detail? Or did Microsoft truly intend on having Super sensitive touch on the Lumia 950, but something happened at the last minute and it was omitted from the production (and, since it was last minute, someone forgot to delete the spec in the store page)? Or, does it just mean that Super sensitive touch is on the new Lumias, but does not work as well as we've heard it should?

We've asked Microsoft to clear this up for us and will update this as we get a reply.