Fujitsu's iris scanner for smartphones: Hands-on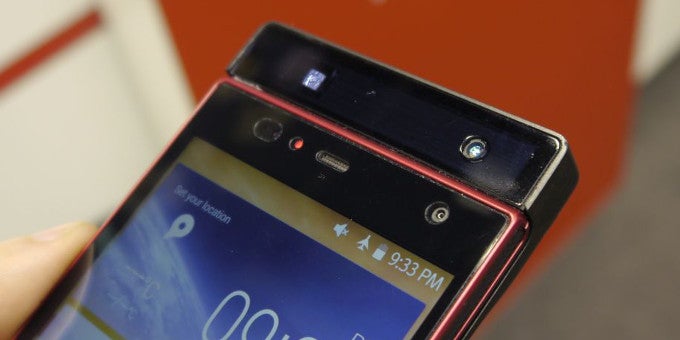 If you're looking for a way to secure your device but aren't a fan of current generation fingerprint sensor implementations, Fujitsu's new iris scanner, demoed at MWC 2015, might be just what you've been looking for. What the Japanese company had up for shows was just a concept
bolt
-on-ike accessory that snaps on the top side of phones, but we were told to expect a commercial version of the tech to hit the market sometime in the next year. Take a deep breath, though – the scanner will be housed in the top section of your smartphone, around the front-facing camera, supposedly without adding any extra depth or weight.
There are few key things you need to know about the iris scanner in question. In terms of the tech employed here, we're looking at a combo of infrared gizmos – a camera and a flash. After getting through the initial setup, those will be used to illuminate your irises and take a snap of them, which will then be quickly analyzed for a match before letting you past the lock screen. It's safe to say that Fujitsu's implementation is faster than any locking method currently on the market, as the process usually takes a fraction of a second at most.
Also essential is the scanner's ability to recognize you for being you even when you're wearing contact lenses (but not colored!) or glasses. Fujitsu stressed how that, along with the ability to unlock your phone when your hands are wet/gloved, make iris scanners a significantly more hassle-free method of securing mobile devices, and we can't disagree. Best of all, Fujitsu's scanner
might
be made available to other manufacturers for use with their devices, though company reps avoided giving us a straight answer.