The FCC to open up 195MHz of 5GHz spectrum to alleviate Wi-Fi congestion
3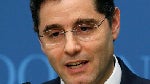 Speaking at a convention center full of Wi-Fi users at CES 2013, FCC Chairman Julius Genachowski announced that the FCC will open up a nice bit of spectrum to alleviate the congestion of Wi-Fi networks. The 195MHz of 5GHz spectrum that the FCC will release is designed to allow Wi-Fi users to get
faster data speed and capacity
at hubs such as airports and convention centers. The release of this spectrum should also help those at home using Wi-Fi as multiple device use increases. This move will free up the spectrum known as "Gigabit Wi-Fi". Capacity of this unlicensed ultra-high-speed Wi-Fi spectrum will increase by as much as 35% and offers users improved HD video capabilities.
"We all know the frustration of Wi-Fi congestion at conferences and airports. Today, the FCC is moving to bring increased speed and capacity to Wi-Fi networks by increasing the amount of unlicensed spectrum for Wi-Fi. It will also help in homes as tablets and smartphones proliferate and video use rises."-Julius Genachowski, FCC Chairman
The FCC will make the additional spectrum available next month. The 5GHz spectrum is also used by federal agencies which means that an agreement must be reached to prevent problems from popping up and Chairman Genachowski said that the FCC will move quickly to get things in place. A statement released by the FCC also mentioned next-gen Wi-Fi spectrum that will be able to travel over longer distances and penetrate walls and hills thanks to the lower frequencies belonging to this block of Wi-Fi spectrum that comes from the "white spaces" between broadcast television channels.
source:
FCC
via
Phonescoop