The Apple iPhone 6s is the top selling smartphone in the world and in the U.S.
77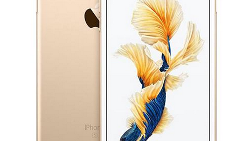 Trivia time, folks! What handset was the best selling smartphone in the world during the second quarter, according to Kantar Worldpanel ComTech? Here is a hint. This device was also the biggest seller in the U.S. during the same quarter And the answer is...the
Apple iPhone 6s
with 11% of the stateside market for the three months ended in June. Here's a surprise. The 4-inch
Apple iPhone SE
was third in the U.S. with a 5% share, behind the
Samsung Galaxy S7
's 9%. The
Apple iPhone 6
was 6th in the U.S. during the quarter, making up 4.1% of U.S. smartphone sales in the period.
World-wide, the iPhone 6s made up 4.2% of the global smartphone market from May through June, to top all other intelligent handsets. With 2.7%, the Apple iPhone 6 was next, with the Samsung Galaxy S7's 2.5% share good enough for third place.
During the period from April through June, iOS added 1.2 percentage points and now has a 31.3% U.S. smartphone market share. For the three months of the quarter, Android lost .6 percentage points, but still owns a commanding 65% of the market. Windows has 2.4% and BlackBerry .4%. In Urban China, Android set a record for the platform in the region with an 85% share during the second quarter. In the country, Huawei is on top with a 27.6% slice of the smartphone sales pie. Xiaomi is next with 18.5%, followed by Apple's 14.3%.
"The iPhone 6s remains the top-selling device in the market with an 11% share, something we expect to continue through the launch of the next iPhone, with price reductions incentivizing people to upgrade their current phones even if they might not feel a need for the 'latest and greatest. Interestingly, the iPhone 6, which is approaching the end of its expected lifecycle, is still the sixth best-selling phone in the US, achieving 4.1% of smartphone sales in the latest period."-Lauren Guenveur, Consumer Insight Director, Kantar Worldpanel ComTech
In the U.K., the second quarter saw strong growth for Apple as iOS grew its share by 5.8 percentage points for the period. Still, Android holds a comfortable lead in market share for the region, 57.3% to 38%.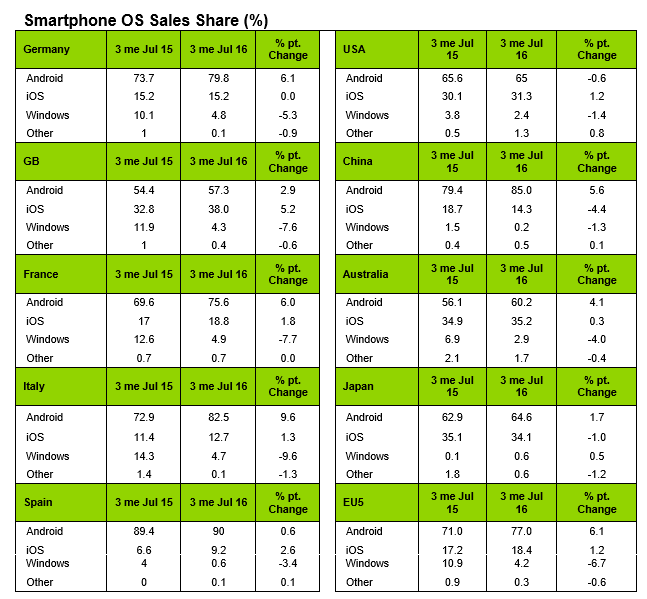 Android remains the leading operating system on smartphones world-wide
source:
KantarWorldpanel ComTech
via
9to5Mac