The Android Nougat statue was revealed in a Snapchat story... taken with an iPhone?
27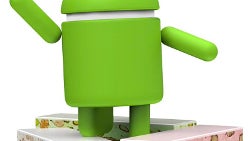 Each major Android build comes with a dessert code name, each one starting with the next letter in the alphabet. And, while it seems a fairly trivial thing, the speculation for what the next Android name might be has turned into a fun past-time for many fans of Google's OS. And, subsequently, the reveal is now considered a generally exciting affair.
Google has acknowledged the community's excitement over the Android naming schemes and has done its fair share of trolling and
misleading
speculators in the past, while this year, it actually asked the community to
suggest names
starting with the letter N. In the end, the company chose
Nougat
.
The reveal was done over a Snapchat story, which you can view right now, if you have Google in your friends list (or just add it now). It shows some of the excitement that was brewing around the reveal event, Google's "Top secret naming lab", a couple of corgis, and the actual reveal of the
Android Nougat statue
a the Googleplex. If you don't feel like snapchatting it, just check out the video below.
One of the snaps clearly shows a couple of smileys pasted on top of a picture. This is a Snapchat feature — the user can grab any emoji they desire from their emoji keyboard and manipulate it like a sticker. Upon closer inspection, the smiley used looks a lot like the iOS stock emoji, and nothing like any Android smartphone emoji we can think of. So, was the Android Nougat Snapchat announcement made with an iPhone? Oops...