The 2013 generation HTC One will update to Sense 6.0 by June, HTC One Max/Mini, by July
12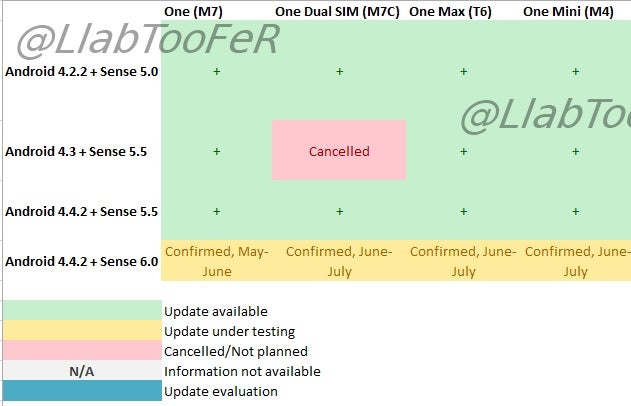 Since we pretty much
know everything there is to know about the "New HTC One,"
and its Sense 6.0 user interface, through a deluge of leaks, it seems only proper that such leaks would reveal when older HTC devices might get slated for a Sense UI update.
Now, thanks to yet another leak of information, @LlabTooFeR shared part of a document which provides a general project timeline for upgrades to a number of HTC devices, from the Desire 700 all the way to last year's hit, the
HTC One
.
Those that own last year's HTC One (including the dual-SIM),
HTC One Mini
, or the
HTC One Max
may begin seeing updates to the Sense UI in around June, give or take. The flagship HTC One is first in line with a May/June time frame, whereas the rest of the line-up looks like June/July. The
HTC Butterfly S
, not sold in the US, is also slated to get an update this summer.
We should provide the standard caveat that carrier testing will certainly impact this timeline, so do not be surprised if your device does not see the update right away. Those that were hoping to see an update to their HTC One X, or One X+, it looks like you are out of luck still. The matrix clearly notes HTC cancelled plans to update those two phones due to issues with the Nvidia Tegra CPUs that were used.

There was a glimmer of hope
last month when we learned that HTC
was going to try and find a way to bring the upgrade to the One X and One X+, which would keep a promise made by the company to
keep products updated for at least two years
. Unfortunately, it appears that Nvidia will not be supporting that effort. Without Nvidia's support, HTC had to make the decision to move on.
via:
DroidLife