That's incredible! HTC DROID Incredible 4G LTE for Verizon announced at CTIA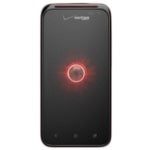 The
HTC DROID Incredible 4G LTE
has been rumored and leaked for a long time now, but today is finally the day for those users who have been expecting this handset to be launched officially.
Even though we've seen numerous leaks, you've probably noticed that there hasn't been that much of an interest surrounding the DROID Incredible 4G LTE. We can attribute that to last year's
DROID Incredible 2
, which failed to excite customers the way the original
DROID Incredible
did in 2010. Anyway, we do hope that the new 4G LTE model will be able to make the Incredible line hot again.
Looking at its
specs sheet
, it immediately becomes evident that the HTC DROID Incredible 4G LTE for Verizon has all the potential to become a great... upper-mid range Android smartphone. It would be hard for it to compete with the quad-core monsters that have already started to appear on shelves, but it might still become a worthy offering for those users looking for a powerful handset that doesn't necessarily scream cutting
edge
. It features a 1.2 GHz dual-core processor – a Snapdragon S4 by Qualcomm, 1GB of RAM, and 8GB of built-in storage. The screen measures 4 inches in diagonal, uses the Super LCD tech and has qHD resolution (540x960 pixels). Even though it's not really an HD display, this shouldn't disappoint you, since with the diagonal being 4 inches,
pixel
density is still quite high at 275 ppi. If you're not of the tech-savvy type, all of this means that the screen will be very sharp and small elements like text will be clear and easy to see.
Other features
that are available with the DROID Incredible 4G LTE include an 8MP camera with f/2.2 aperture, BSI sensor, and a single LED flash. Just like with other recent smartphones made by HTC, full resolution still images can be captured while the device is shooting 1080p video. Also included is a front-facing camera for video chats and the occasional self-portrait. Behind the smartphone's back cover resides a 1,700mAh removable battery and a slot for microSD cards of up to 32GB. And since the device comes with an NFC chip, users can take advantage of Android Beam for quick and simple exchange of web pages, apps, and contacts between compatible handsets. As the name suggests, the DROID Incredible 4G LTE supports Verizon's speedy 4G LTE network. Simply put, users can expect getting real-life download speeds of 5 to 12Mbps in areas covered by the Verizon LTE network. Software-wise, the new Incredible comes with Gingerbread. Juuust kidding, of course it runs
Android 4 ICS
, with the notorious Sense 4.0 UI on top.
If the HTC DROID Incredible 4G LTE seems like the smartphone you have been waiting for, you will be able to get one pretty soon. Verizon is promising to make the handset available for purchase both online and in its retail stores within a few weeks. Details regarding pricing, however, have yet to be announced.