Google tests Gboard feature that alerts you when a relevant GIF, search, emoji or sticker is available
4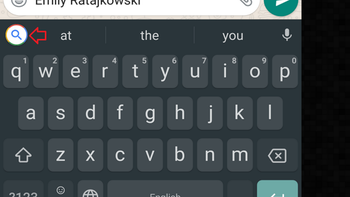 A new feature is reportedly being tested for the Gboard QWERTY app, which will alert a user when something relevant to what he is typing about is available. Here is how it works according to
Android Police
. If someone is typing and Gboard figures out that it has information related to the word or name being typed, the Google "G" in the predictive bar will turn into a GIF icon, a search icon, a smiley face and more.
If the name of a celebrity is typed in, the "G" may turn into the search icon (see the image at the top of this article). Tapping on it will bring up cards with a search result for that celebrity. Typing on certain words like congratulations will turn the "G" into the GIF icon. Clicking on it will bring up a selection of animated images. This isn't something amazing; after all, the current version of Gboard allows users to quickly find GIFs, stickers, emoji and information. But instead of requiring a user to initiate a search for such things, this new feature brings suggestions to the typist.
The new feature is being pushed out to a limited number of Android users via a server-side update. If you can't find this on your phone, there probably is a good reason for that; you haven't been sent it. Google has been testing this since July, and perhaps we will soon see this roll out officially to all typing on the Gboard QWERTY.