Taking 3D video with the HTC EVO 3D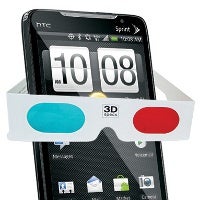 Self-made 3D footage sounds excitingand even more so when shooting it with a device you always have inyour pocket. The HTC EVO 3D is one handset capable of exactly thisand we didn't miss our chance to test its recording capabilities atCTIA.
Video captures is aided by thededicated shutter button which activates the camera. Transitionbetween your standard 2D and the third dimension is performed by asimple move of a switch located right next to the shutter. And whenit comes to the quality of 3D videos, we're looking at up to 720p HDresolution. On-screen controls allow you to control what you see, andyou also have auto-focus. You can find a quick walkthrough of some ofthe recording features of the EVO 3D below, so why don't you check itout for yourselves?