HTC EVO 3D Hands-on
55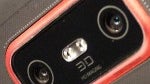 Taking into consideration all the great things that came along after the CTIA 2010 introduction of the HTC EVO 4G, it's only fitting to see yet another EVOlutionary concoction at CTIA 2011. As we've already witnessed from the events at MWC and CES, Sprint has kept a relatively low profile in announcements, however, it made sure to knock it out of the park for CTIA 2011. The
HTC EVO 3D
, as its name blatantly implies, will focus most of the attention on its various 3D aspects. Although there was no mention in regards to a release date or pricing, it's still nonetheless shaping up to be a wonderful offering that should keep it in consideration amongst the competition.
Comparing it to the
EVO 4G
, the EVO 3D actually
improves upon the design
and feels rather solid in its construction. Still deciding on utilizing a plastic exterior, which makes its weight feel not too overbearing, we're digging its patterned rear cover which provides a reasonable amount of grip when held. However, it doesn't take the cake from other premium feeling HTC smartphones on the market such as the
Desire HD
or
Inspire 4G
– but we're confident that it'll be a pretty looker nonetheless.
Sizing up with the same sized
4.3" display
, we're presented with plenty of crisp details since it packs
qHD
(540 x 960) resolution, but interestingly enough, there is a parallax barrier overlay that brings forth 3D visuals – sans the glasses. At first, we didn't notice the effect that much, but after a few seconds, our eyes adjusted to it and we noticed the various levels of depth that ultimately give it the 3D look. Of course it's a nice touch that provides some novel characteristics to the handset, but not everything is displayed in 3D – only videos and photos that are recorded for 3D viewing.
Luckily, the combination of its dual-core 1.2GHz third generation Snapdragon chipset with the latest version of Sense running on top of
Android 2.3
Gingerbread makes it one
blazingly speedy smartphone
. Initially, the new Sense UI reminded us of the good old days of HTC's TouchFLO 3D cube that was used in some of their earlier Windows Mobile devices, but it's a nice departure from the usual carousel we're accustomed to seeing with Android. These eye catching graphical effects and transitions inevitably provide a refreshing experience that's once again regarded to being an interactive evolutionary step.
Other notable specs
include its 1.3-megapixel front-facing camera which is expected to work great with video chat over 4G, and two 5-megapixel auto-focus rear cameras (with dual-LED flash) which allow you to shoot 3D videos and photos. Likewise, you can connect an HDMI cable to it so that you'll be able to mirror its display directly onto a high-definition television set – which provides the option to easily share content.
Flexing its muscles, the HTC EVO 3D is by far the most prevalent HTC Android phone announced in the last few months – and it's only going to further the EVO branding for Sprint. Precisely making improvements in various aspects, combined with its 3D capabilities, the HTC EVO 3D is surely going to be a memorable device come this summer when it is released. Until then, let's just cross our fingers and hope it sticks to the golden price of $200 on-contract to really get customers attracted to Sprint – if not, it can prove to be too much of an investment for some people, despite adding the 3D touch.