Taiwanese manufacturers sceptical about Intel's chance at smartphones and tablets with Medfield
5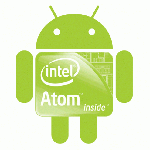 Intel is hard at work
reorganizing itself to develop its smartphone processor codenamed Medfield
, which it promises to provide better performance than ARM's chipsets with comparable power consumption. Chipzilla said wide availability will be in the second half of next year, and for now only
Samsung is rumored to be making a smartphone for Sprint with "Intel Inside" and Android 4.0 ICS
.
We know that Samsung likes to hedge its bets with everything, that is why we are seeing it to produce phones with two 3rd party mobile operating systems - Android and Windows Phone - plus its own bada OS. The company also uses both AMOLED and LCD displays for its gadgets, maintains a huge phone and tablet portfolio, and overall isn't placing its bets on just one horse. Samsung's willingness to diversify and experiment has likely been the culprit behind the alleged Intel-powered phone for Sprint, rather than some mysterious merits of Intel's mobile chippery compared to ARM-based silicon.
That's why Taiwanese manufacturers are now saying that
Intel is unlikely to win wider adoption for its Medfield chips with the smartphone and tablet makers
, as it hasn't maintained close relationships with them until now, while its traditional partners, the computer manufacturers, are skittish to use Intel for their mobile plans, considering previous botched attempts like Atom, for example.
Intel's Achilles heel has been power consumption so far, but it is moving to 32nm process for the first Medfields, then 22nm, and even 14nm by 2015, so we wouldn't write it off as a viable ARM contender in the field, but convincing manufacturers to adopt its chips for mobile might prove the biggest hurdle.
source:
Digitimes