First Intel powered smartphone, made by Samsung for Sprint, coming to 2012 CES?
52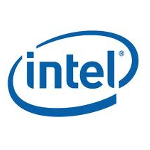 Speculation is growing that there will soon be a smartphone that can say it has "
Intel Inside
". Sources for
Android and Me
are saying that
Samsung
is the manufacturer of the Intel flavored phone which will be available for
Sprint
. The phone, which is allegedly going to run Android 4.0, will first be seen during next year's CES. And there is some substance behind the rumors.
PC World's Agam Shah reports that Intel has been able to get Ice Cream Sandwich on its Atom processor, co-named Medfield. Shah adds that Intel has been working on optimizing the processor for certain devices, and should be ready in time for when these devices are being released. As for talk that Intel's x86 processors can't compete in the smartphone arena, Intel CEO Paul Otellini says that the Medfield processor will beat all challengers.
Last month, we reported that the Medfield CPU's, part of Intel's line of processors,
will be made specifically for mobile handsets
while the Clover Trail chipsets will be used for tablets. Intel plans on moving from chips made using a 32 nm process in 2012 to 22nm the following year and 14nm the year after. Otellini says that Intel has been in the position of challenging tough competition before.
In the early 1980's,
Intel
went after the
Vic-20
and the
Apple II
when first entering the PC market. Who leads that market today? You betcha. And in the early 1990's, Intel went after
Sun Microsystems
and
IBM
in the server market. Care to guess who now leads that market? And the same thing has happened with Supercomputers. So perhaps it should be TI and Qualcomm shaking in their boots with the impending addition of Intel to the smartphone market.
Intel says that the Medfield processor will outperform when it comes to surfing the web and "
smokes the others
" in browser performance according to Otellini. It also is said to outperform in the
GLBenchmark test for graphics
and in the
SunSpider for JavaScript
performance. The one problem that Medfield has is that it comes in second or third in power consumption.
Back in July rumors started spreading about a very thin Intel phone powered by the Medfield processor. At the time, Android and Me's source wouldn't reveal the handset maker, but there is some word that Samsung and Intel have expanded their partnership to include smartphones. Otellini is giving a keynote speech January 10th at CES and that will be immediately followed
by an event being held by Sprint
which leads to speculation that the third largest carrier in the States will be the home to the Intel powered smartphone, at least in the beginning.
source:
PCWorld