Tag Heuer puts a name on its first smartwatch
9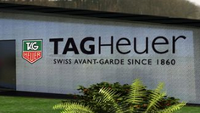 Tag Heuer CEO Jean-Claude Biver was certainly not a fan of the Apple Watch
when it was first introduced. Biver called the device too feminine and said that it looked like it was designed by by a student. But the executive soon changed his mind. Not only did he decide to buy an Apple Watch for his own wrist, he started to
work on Tag Heuer's first intelligent timepiece
.
Conceding to the idea that most of the technology for a Tag Heuer smartwatch would have to come from Silicon Valley, Biver said that it would be unlikely that the timepiece would be able to have 50% of its parts come from local vendors. That would prevent the watch from being called "
Swiss made
," a label that Biver called "
a state of mind
" for the watchmaker. For the company to give up that label shows how important it is for Tag to have a smartwatch to sell.
During an exclusive interview with
Wearable
, Biver revealed the name of Tag Heuer's first smartwatch, which will be powered by Android Wear. The timepiece is known as the Tag Heuer Carrera Wearable 01. That is similar to the traditional Tag Heuer Carrera - Heuer 01 watch which was officially revealed at Baselworld 2015. As the executive says, "
Somehow, one should not see from a certain distance the difference between a Carrera Heuer 01 and a Carrera Wearable 01
."
The Tag Heuer Carrera Wearable 01 will go on sale in October or November of this year, priced at $1400. The manufacturer is looking to position the watch as a long lasting device that will offer numerous updates to stay relevant. Tag's U.K. communication manager Alexandra King said "
The watch will change the technology as it develops, Jean-Claude Biver was clear about that. We want to be able to change the technology but keep the watch elements
." Tag built its new smartwatch with help from Google and Intel. The luxury timepiece is powered by an Intel processor.
"For a traditional mechanical watch, 'Swiss Made' is a reference and criteria of reliability and quality. For a connected watch, Android from Google and Intel Inside are the criteria of quality and reliability."-Jean-Claude Biver, CEO, Tag Heuer
source:
Wearable