Deal: Buy 2 LG V30s from T-Mobile and save $500 (or get a free LG G6, or V20)
12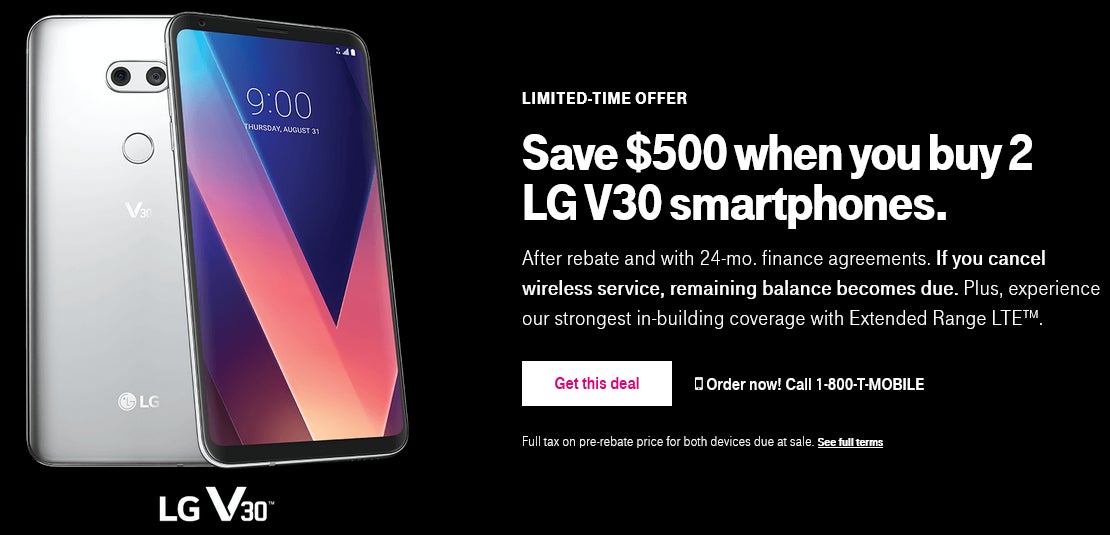 Available at T-Mobile starting today, the LG V30 is one ofthe carrier's most expensive Android smartphones, costing $800 outright (or $80upfront and $30 per month for 24 months). Fortunately, if you need to buy twoV30 handsets, for a limited time, T-Mobile will let you save $500.
To take advantage of T-Mobile's new deal, both LG V30 phonesmust be bought on a 24-month equipment installment plan, with at least one new lineactivation. After all requirements are met, you'll receive a $500 rebate via PrepaidMasterCard Card.
If you don't want to save $500 on two V30 handsets, you canchoose to get just one V30, and an LG G6 or LG V20 for free (also after rebate viaPrepaid MasterCard Card). Full details about this offer can be found atT-Mobile's website - see the second source link below.
Like all LG V30 models sold in the US, T-Mobile's version comes with a free Google Daydream View VR headset, if purchased before November 6.
In addition to being sold by T-Mobile, the LG V30 can be bought from Verizon, AT&T, and US Cellular, too. An upgraded version of thephone, the V30+ (with 128 GB of storage space and premium headphones in the box), isavailable from Sprint and US Cellular.
sources: LG V30 at T-Mobile, Offer details