T-Mobile CEO Legere denies T-Mobile was trying to influence the president
5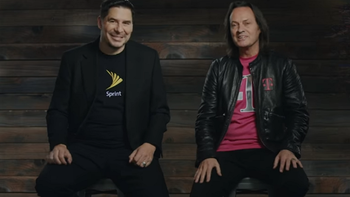 Normally, we'd say that trying to get in the president's good graces wouldn't really matter to T-Mobile or Sprint since the decision to approve the deal has nothing to do with the man in the White House. But since Trump reportedly (and unsuccessfully)
tried to get the Justice Department to block AT&T's $85 billion purchase of Time Warner
for personal reasons (Trump doesn't like cable news channel CNN, which was part of the deal), the optics on T-Mobile's choice of hotel looked bad to Democrats on the committee.
Legere, dressed in his finest magenta T-Mobile shirt, responded that it was not unusual for him to stay at a Trump property. "I'm a longtime Trump hotel stayer, way before this transaction," said the executive. Speaking of which, Rep. Pramila Jayapal (D-WA)
brought up the now famous Twitter fight that Legere had with Donald Trump back in 2015
. The T-Mobile CEO was staying at a Trump property and complained about some noise outside of the hotel. To its credit, the hotel did manage to resolve the issue. But for some reason this set Trump off, and he sent tweets to Legere criticizing everything from T-Mobile's service to the length of the CEO's hair. Trump called him everything but John T-Mobile.
"There is reason to look at this question of what happened at the Trump hotels because it has been clear from quite a bit of reporting that … Trump appears to have involved himself in the AT&T-Time Warner merger. We want to make sure that is not happening today."-Rep. Pramila Jayapal (D-WA)
Rep. Jayapal was concerned that Legere had deleted the tweets, and was worried that it was done to get on the president's good side. "It doesn't pass the smell test for the American public," said Rep. Hank Johnson (D-GA). Meanwhile the Republicans on the committee were more interested in examining the possible anti-competitive nature of the deal, which drops the number of major carriers in the U.S. to three from four. On one hand, some worry that this could lead to rising prices for wireless service. On the other hand, a combined T-Mobile-Sprint would be more of a challenge to AT&T. That could prevent the nation's second largest wireless provider from raising prices. And of course, there is worry that the merger would lead to sweeping job cuts as a number of retail stores would be closed to prevent overlapping. Legere has already said that the merger would add to the headcount at the combined carrier from day one.
Last week, John Legere said that he expects the T-Mobile-Sprint merger to close this summer.