T-Mobile's CTO says a Sprint-MetroPCS hook up would have network problems
46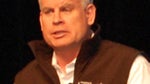 With speculation that
Sprint will make a higher bid for MetroPCS
and bust up the T-Mobile-MetroPCS deal that
both carrier's boards have agreed to,
the CTO of the nation's fourth largest carrier warns that a Sprint/MetroPCS merger would
lead to network problems for Sprint
. T-Mobile CTO Neville Ray spoke Monday via Conference Call at the Sanford C. Bernstein investor conference and called Sprint's network "
a dying technology
". Ray added that T-Mobile's plan is not to run two separate networks as Sprint did with its purchase of Nextel in 2005. Ray said that T-Mobile will close down Metro's CDMA network after the acquisition closes.
"This isn't about integrating these two networks. It's about moving MetroPCS over to a bigger and stronger converged network."-Neville Ray, CTO, T-Mobile
Despite Ray's comments, some analysts are concerned about combining T-Mobile's HSPA+ and its upcoming LTE pipelines with the CDMA and LTE network. T-Mobile's plan is to take MetroPCS customers off the CDMA spectrum on onto a
combined LTE network
running on AWS spectrum. Ray sees all of MetroPCS' customers moved by 2015 thanks to the pre-paid carrier's 60-65% handset turnover rate.
T-Mobile and MetroPCS will be compatible with their LTE networks.MetroPCS uses 1700 MHz AWS spectrum for LTE which is what T-Mobile will use when it builds out its network next year. When it comes to 4G LTE, Sprint currently uses its 1900 MHz PCS spectrum. T-Mobile is refarming its own 1900 MHz spectrum for its 4G HSPA+ pipeline.
Ray has said that a merger between T-Mobile and MetroPCS won't have to knock down any huge technological barriers. MetroPCS' current handset lineup would be replaced by models that run on T-Mobile's HSPA+ network.
source:
AllThingsD