T-Mobile takes on Verizon in Spectrum Wars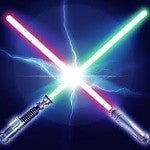 In the old days, verbal knockdown dragout fights used to take forever. Snail mail battles had to wait for the actual pickup and delivery of the words. But this is a much different age we live in and thanks to Twitter, a few timely tweets will assure that the whole world knows where you stand on an issue. Back in February Verizon and T-Mobile got into a battle of words when Big Red said
that it was using its spectrum more efficiently than the nation's fourth largest carrier
. Tweets were exchanged, words were said, but so far no one has lost an eye.
In a press release issued Wednesday,
T-Mobile attacked Verizon's reasoning
behind comments it made against T-Mobile in support of Big Red's purchase of AWS spectrum from a group of cable firms. Last month, the FCC told Verizon that it
wanted the carrier to prove that it needed the additional spectrum next year
, and wanted the three cable firms selling the licenses to explain
why the trio could not use the spectrum for themselves
. The Feds gave Verizon a March 22nd deadline and we are still waiting to hear from the FCC on whether it will green light the purchase by Verizon.
twice as efficient as T-Mobile
. The latter has taken exception to this comment and shows where Verizon has gone wrong with its math. The latter divides each carrier's total subscribers by a average amount of spectrum. According to T-Mobile, this analysis is flawed because it is done on a nationwide basis when it should be done market-by-market because of the way that spectrum holdings and market share vary greatly in different markets.
Additionally, T-Mobile claims that in Verizon's calculations of T-Mobile's network, the mobile operator used spectrum that the latter has not taken possession of yet
which makes T-Mobile look like it has much fewer subscribers than Verizon has
for the same amount of spectrum. The spectrum being added to T-Mobile's total by Verizon is coming from AT&T
as consolation for pulling out of the deal to acquire the company
, and is awaiting FCC approval to have the appropriate license transferred. Ironically, in its calculations for its own figures, Verizon doesn't include the spectrum
that it is waiting to hear about from the FCC
which in effect gives the carrier the look of a much more efficient mobile operator.
T-Mobile also points out that
smartphones use 35 times as much data as featurephones
and that T-Mobile has a higher percentage of smartphone customers than Verizon. Additionally, Verizon has a majority of its spectrum in frequency bands under 1GHz which is more efficient than bands over 1GHz, which is where all of T-Mobile's spectrum lies.
Taking all of these conditions into account,
T-Mobile says it is more efficient than Verizon in the Top 5 markets
, 8 out of the top 10 and 31 out of the top 49. On average, says T-Mobile, it is 50% more efficient than Verizon which is a much different story than what Verizon is telling the FCC. And while T-Mobile is refarming its PCS and AWS technology for next-gen LTE service, it will still require more spectrum to have a national LTE rollout. As the carrier says, "
As competitors like Verizon roll out LTE, it is important that
T-Mobile
be right there as well – bringing competition and choice to consumers
."
T-Mobile says that the FCC should not allow Verizon to sink its hooks into the last block of currently available LTE enabled spectrum since Verizon would most likely sit on the spectrum whereas others, like T-Mobile,
would put it to use immediately
.
Verizon is on a buying spree these days – attempting to corner the spectrum market by purchasing one of the last remaining unused blocks of airwaves to create a stockpile. Verizon would have you believe its effort to purchase the cable companies' Advanced Wireless Services (AWS) licenses in the 1.7 GHz band is but a "run of the mill" set of transactions that should be rubber-stamped by the FCC. Not true. These deals are anything but routine and, if granted, would unduly tip the scales in favor of the largest wireless carrier at a critical juncture in the mobile broadband industry.
To justify its continued buying binge, Verizon claims that it is one of the most efficient carriers in the world, and that it is two-times more efficient than T-Mobile. It doesn't take long to find the flaws in Verizon's claim. Here's why:
First, Verizon's analysis divides the carriers' nationwide total subscribers by a nationwide average amount of spectrum. But mixing an absolute number of subscribers against a broad average of spectrum produces a pointless number. Because spectrum holdings and market share vary dramatically on a market-by-market basis, any meaningful analysis must be done at that level.
Second, Verizon includes spectrum in its calculation to which T-Mobile does not yet have access, making T-Mobile's average appear lower. In particular, Verizon adds spectrum that T-Mobile will receive as a result of the break-up of its deal with AT&T even though the license transfer applications remain pending at the FCC. At the same time, Verizon fails to include the spectrum it is seeking to acquire against its own average.
Third, as Verizon acknowledges, not all wireless users place equal demands on the network and smartphones use approximately 35 times the data of feature phones. Verizon, nevertheless, declines to factor into its analysis that T-Mobile has a higher percentage of bandwidth-hungry smartphone customers than Verizon.
Fourth, and most importantly, Verizon fails to account for the fact that a majority of its own spectrum is in frequency bands below 1 GHz, which is considerably more efficient at providing coverage and capacity than spectrum above 1 GHz. All of T-Mobile's spectrum is in the higher bands above 1 GHz.
An analysis that takes these factors into account reveals that T-Mobile is actually more efficient than Verizon is in all five of the top markets, eight of the top-10 markets, and 31 of the top-49 markets, and that, on average, T-Mobile is 50 percent more efficient than Verizon in the top markets. This is a very different picture than the one Verizon paints for the FCC and the public.
T-Mobile announced earlier this year that it would begin repurposing its existing PCS and AWS bands for the deployment of next generation LTE technology. Even with this effort to retool our bandwidth, however, we will need more spectrum to fully deploy LTE across the country.
As competitors like Verizon roll out LTE, it is important that T-Mobile be right there as well – bringing competition and choice to consumers. It is therefore no coincidence that Verizon moved aggressively to purchase the last remaining block of spectrum that carriers like T-Mobile and others could utilize to launch competitive services in competition with Verizon. Especially with the recent demise of our deal with AT&T, T-Mobile needs the right spectrum resources to remain a competitive force. The spectrum Verizon is seeking to acquire from the cable companies is uniquely situated to facilitate and expand T-Mobile's LTE deployment.
T-Mobile has a history of buying spectrum and immediately using it – not buying it to bank it. After the 2006 FCC AWS, auction, we actively cleared a dozen incumbent federal government agencies from the 1.7 GHz band in record time to make way for 3G and 4G services. T-Mobile's record stands in stark contrast to Verizon's approach of buying large quantities of spectrum and letting it sit idle – in the case of AWS for five and a half years and counting. And, Verizon admits it retains plenty of capacity even as it seeks to stockpile another tranche of spectrum to meet some future demand. Indeed, Verizon's chief financial officer recently noted that only five percent of its customer base is using its new LTE network at 700 MHz. The question for the FCC, therefore, is why Verizon should be permitted to acquire more spectrum before it has even started to use much of what it already has.
The simple answer is that Verizon's effort to lock down the last remaining block of currently available LTE-appropriate spectrum should be denied. By doing so, the FCC would advance its pro-competitive goals for the wireless industry and create an environment in which the licenses could be made available to others who can put them to work immediately for the benefit of consumers.
source:
TmoNews