T-Mobile parent Deutsche Telekom asks company with pink color theme to 'cease and desist'
9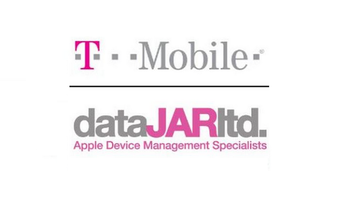 Quiz time. What company do you think of when you see the color magenta? Most of you would answer T-Mobile. And that is why the carrier's parent, telecom giant Deutsche Telekom, is opposing a trademark application filed in England by a Brighton based company called dataJAR. The latter company's trademark request uses a color that some might think as too similar to the magenta that Deutsche Telekom's attorneys say is "the core element of its identity."

While Deutsche Telekom has trademarks that protect its use of magenta, dataJAR founder James Ridsdale says that its trademark doesn't even use the same shade of pink that Deutsche Telekom does. DataJAR, which manages iPhone handsets for businesses and educational facilities, has all of seven employees and says that it has used its logo for five years.
Deutsche Telekom's lawyers at Hogan Lovells wrote a letter to dataJAR explaining that using pink in its logo "could lead to confusion on the part of the public," who might think that there is a connection between the two companies. Deutsche Telekom also says that allowing dataJAR to use a pink-themed trademark could weaken its brand.
After dataJAR filed a trademark application in January, the multi-billion dollar Deutsche Telekom sent a "Cease and Desist" letter to the company. That led dataJAR's Risdale to comment that "They have trademarked one shade [magenta] and in fact I believe... the one they have trademarked isn't the one they are using."
No matter what they decide to do, dataJAR will be spending a lot of money for such a small firm. If it changes its color theme, it will have to change its website, business cards, stationary and clothing. If the company decides to fight, it will have an expensive legal battle ahead. Ridsdale is hoping that his company's insurance policy will cover the cost of an extended legal contest. Deutsche Telekom, of course, has the money to cover a prolonged litigation.