T-Mobile and Sprint update their trade-in programs – both will meet and beat competitor's prices
3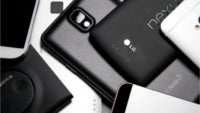 Well, it's that time of the year again. All the exciting new bleeding-edge tech smartphones have been announced at this year's IFA and in just a few hours – Apple is going to present the new iPhone at
its own event
in Cupertino's Flint Center hall. In just a couple of weeks, all the shiny new gadgets will be hitting store shelves and adorning different carriers' contract offers, and millions of users will want to sell their old handsets and put the money towards their new favorite phone.
With that said, it is only natural that carriers will try to offer the best trade-in programs possible, in order to pull in more new customers. Getting rid of your old phone via a carrier trade-in program is quick and easy, free of the hassle of looking for buyers yourself and replying to constant queries about the phone's condition; it's also much less stressful than auctioning it on eBay, waiting until the last second for someone to place a bid, and hoping that it would be a worthwhile endeavor. Of course, there are drawbacks – for one, you will certainly get less cash than what you would if you sold it to someone else; secondly – you don't really get cash for it – you get awarded credit, which you can use towards the purchase of a new phone from the same carrier you sold your old handheld to.
T-Mobile and Sprint are very well aware of the fact that a huge wave of new potential customers is about to hit every carrier's store and web address, scouring every page possible in the search for the best deal. So, in strides to attract as much new clientele as they can, both carriers now claim that they are prepared to "meet and beat" any competitor's price on a trade-in program.
Of course, each carrier has a unique twist to its own program. For Sprint – it is the fact that trade-ins go towards a customer's in-store credit and that credit can be used for any service provided by the carrier. Be it a phone bill, a purchase of an accessory, or anything else that requires one to pay in a Sprint store – that money can be taken from the in-store credit. Also, Sprint will allow you to trade-in up to 3 phones per line at any time, and up to 5 per year.
T-Mobile, on the other hand, will only accept a trade-in when it's time to sign a new contract – be it if you are a new customer or an old one, looking to re-sign. However, their trade-in offer bears the mark of the UnCarrier's aggressive marketing style – if a customer finds a better trade-in price for their device and shows it to T-Mo, the latter will not only match the price, but also give said customer an extra $50, as a small "Thanks for letting us know" note. The catcher here is that the $50 and the price difference between T-Mo's original offer and the competitor's higher offer will be paid out to said customer as a bill credit within 2-3 billing cycles. Oh, well – burocracy...
So there you have it. Competition is always good and two carriers have already come up with terms that could be attractive to different sets of people. Which one seems more lucrative to you?
source:
T-Mobile
,
Sprint