Meet TVision Home, T-Mobile's not so disruptive home TV service
5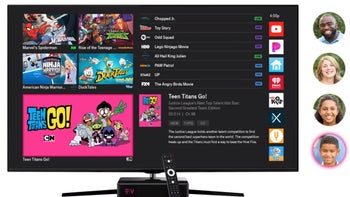 T-Mobile has yet to launch
its streaming TV service
, which the carrier should have done late last year. Unfortunately, not even the acquisition of Layer3 TV, a next-generation cable provider, helped the Un-carrier make all the necessary changes to offer customers a truly disruptive streaming TV service.
Although T-Mobile announced that it won't launch the said TV service until it can offer what's been promised. As such, there's a high chance for T-Mobile's streaming TV service to go live later this year, especially that the carrier recently announced a
partnership with Viacom
.
Anyway, before the streaming TV service will be fully revealed, T-Mobile is launching a home TV service aimed at the "
74% of American households currently paying an average of $107.30 per month for cable or satellite home TV service
."
As the carrier points out, the new TVision Home service is just an upgraded and rebranded Layer3 TV. At launch, TVision Home will be available in eight markets – Chicago, Dallas-Fort Worth, Los Angeles, New York City, Philadelphia, San Francisco, and Washington DC metro areas, as well as Longmont CO, but it will come to other markets later this year.
The Un-carrier has already changed wireless for good… and today's news brings us one step closer to taking on Big Cable. And with the New T-Mobile, we can do more than just offer home TV service … we can offer millions of Americans more choice and competition for TV AND home broadband. I can't wait to begin un-cabling cable and giving millions the opportunity to cut the cord with Big Cable forever, said John Legere, CEO of T-Mobile.

Everyone gets a discount, but for a limited time
TVision Home launches on April 14 at $90/month, which includes a $9.99/month discount for T-Mobile customers, but available for everyone for a limited time. For that amount of money, you'll get 150+ channels, local broadcast, regional sports and more.
Also, you'll have to pay $10/month per connected TV, including your entire home DVR for a limited time. If you plan to add premium TV packages like HBO and Showtime, as well as on-demand rentals, you'll have to pay extra.
T-Mobile also confirmed that TVision Home comes with built-in apps for Pandora, iHeartRadio, XUMO, CuriosityStream, Toon Goggles, and HSN, but more apps are coming soon, including Netflix, YouTube, YouTube Kids and more. Furthermore, the carrier promised to release a companion app for iOS and Android, which will allow TVision Home subscribers to stream their TV to their smartphones anywhere in the house.
TVision Home offers a smart home connected experience, which means you can add your social accounts to your service profile to view a slideshow of your Facebook videos and pictures, or even check your Twitter profile.
Also, the TV service fully supports
Amazon Alexa
and
Google Assistant
so that you can control it with your voice. You can even monitor your front door with access to your security cameras directly from your TV.

There's nothing disruptive about the service, but there are some benefits
Not to mention that the price doesn't include any taxes, which could be anywhere between 4 percent and 20 percent of a bill's total. On the bright side, T-Mobile says that it won't change the price as long as you stay on their plan. Also, there's no long-term commitment, which means you can stop using the service at any time without having to pay any early termination fees.
There's really nothing disruptive about T-Mobile's new TVision Home service, even though the carrier did manage to lower the price slightly below the average. You'll probably save a few bucks each month, but the greatest benefit of TVision Home is that there are no hidden fees and no annual service contracts.