T-Mobile G2 officially announced with a 45nm Snapdragon inside, and new Google Services
13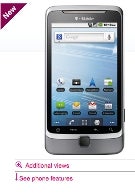 After all the
pictures
and specs leaks, T-Mobile finally unwrapped the G2 - its highly anticipated successor to the
G1
, the first ever Android phone. The
G2
is worthy of the G1 heir title, as it brings along two "firsts" - it is the first handset to take full advantage of T-Mobile's 4G-like HSPA + network, and
the first with the new power-sipping Snapdragon
. The MSM7230 chipset has the Adreno 205 GPU, which elevates 2D/3D graphics to a whole new level, compared to the previous Snapdragon generation - the theoretical limit is four times the performance. That brings it almost on par with the Hummingbird found in the
Galaxy S
, so we can't wait to test those claims. Qualcomm's MSM7230 has the HSPA+ baseband modem integrated in the chipset, and it is of the 14.4Mbps variety in the G2 - again, these are theoretical speeds.
T-Mobile's G2 will have all the rest of the prerequisites to be called a flagship handset. The 5MP camera is graced with an LED flash, and can capture HD video at 720p. It comes with 4GB of internal memory and 8GB microSD card, for a total of 12GB out of the box, which will come in handy for storing those HD video files.
The type of the 3.7" screen is not specified, but it is most probably AMOLED with 480x800 pixels of resolution, as most displays of this size on the HTC handsets are. We know
HTC had issues with the AMOLED supplies from Samsung
, so we wouldn't speculate what will end up in the T-Mobile G2. T-Mobile is listing only the size at this point. For navigating the screen HTC has included an optical trackpad underneath it as well.
The four-row keyboard has an interesting hinge mechanism, which looks quite comfy to use, and the three shortcut buttons we saw in
the leaked close-ups yesterday
, turned out to be exactly that - Quick Key buttons for easy access to Google shortcuts and applications. Speaking of which, the T-Mobile G2 is head-to-toes a Google phone, as can be expected from a worthy G1 successor. It runs stock Android 2.2 with no Sense UI overlays and seven homescreens. One of the panels is even strictly dedicated to one-click access to the Google applications. On the T-Mobile G2 this includes Google Search, Gmail, Google Maps with Places and Navigation, YouTube, Google Talk and also Google Earth, Google Goggles and some others.
The T-Mobile G2 is the first handset to offer a handy integrated Google Voice experience, allowing an account setup with your number from the home screen. Google Voice then automatically transcribes your voice messages into Visual Voicemail, present as text messages or email you can also read online. The Voice Actions feature of Google Search that
we saw in a leaked ROM dump
is also here, of course. It lets you control your phone with your voice for calling contacts and businesses, sending texts or email, browsing, listening to music, and other common tasks.
All these features should be executed in a snappy manner, considering the quick
next generation Snapdragon
inside, made with the 45nm technology. It is clocked at the recommended minimum for the chipset at 800MHz to make the most out of the battery. The juice pack is 1300mAh, unlike most other flagship devices, which have 1500mAh, but it still manages to rate at the decent 6.5hrs of talk time and 17.5 days of standby. And, to top it all off, the T-Mobile G2 comes in a pretty compact package at 4.7 x
2.4
x 0.6 inches (119 x 60 x 15 mm), but, of course, it weighs the hefty 6.5 ounces (184 grams), due to the slide-out QWERTY keyboard.
The G2 has it all to become the new favorite on T-Mobile, and we can't wait to test those HSPA+ speeds and compare them to Sprint's 4G handsets. The price is
rumored to be $199
on a two-year contract, and availability is slated for the
end of September
. Unfortunately, the T-Mobile G2 is still not available for preorder, but the carrier is promising that it will be, in the coming weeks.
T-Mobile G2 Specifications
source: T-Mobile