Supply shortages are forcing HTC to switch from AMOLED to LCD displays
13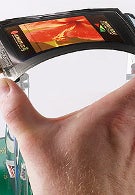 As we've previously
reported
, a shortage of parts needed for Samsung to produce the AMOLED screens it makes for Android models has pushed back shipments of Verizon's HTC Droid Incredible. Since HTC has been unable to get enough of the screens from Samsung, the Taiwan-based company plans on switching to LCD TFT screens manufactured by Sony. This speculation is based on a report in the Korean Herald and comes from Korean carrier KT. The latter firm plans on offering the HTC manufactured Nexus One in July and wrote on its web page that, "Google Nexus One, which will be produced after July will be equipped with SCLD (Super TFT LCD) and sold worldwide." Google and HTC have changed the production standard for the handset and this will allow for the new screens to be used.
Samsung, the world's number 2 handset maker, has been using much of the supply of AMOLED screens that it builds. The Samsung Galaxy S is equipped with a Super AMOLED display and with a variant of the device expected to launch on all four major U.S. carriers, the demand for the screen will be huge. An analyst at Kiwoom Securities, Kim Sung-In, said, "For Samsung Mobile Display, there may be not enough AM-OLED displays to supply to companies other than its affiliate Samsung Electronics." The analyst expects 15-20 million units of the Galaxy S to be sold in the second half of the year. Meanwhile, Samsung's Mobile Display unit has a annual capacity of 35 million screens. While the Korean based firm says it is running at full capacity, it will try to add more supply by increasing the manufacturing capacity of its 3 inch mobile AMOLED display by 10-fold to 30 million units over the next 12 months.
While many might consider the switch in the N-One to an LCD screen to be a lowering in the phone's specs, the Sony LCD model to be used will offer higher resolution and consume less power than the AMOLED display it replaces. The contrast level, however, is lower. " Korean carrier KT says, "AMOLED and SLCD are different technological methods which have their respective strengths and weakness." So far, HTC has been quiet and CEO Peter Chou has not commented on the situation. Besides the Nexus One and Droid Incredible, other HTC Android phones that use AMOLED screens include the Desire and the Legend. No date was given when the latter three devices will be changing to the Sony LCD screens.
HTC Nexus One Specifications
|
Review
HTC Droid Incredible Specifications
|
Review
HTC Legend Specifications
|
Review
HTC Desire Specifications
|
Review
source:
KoreaHerald
via
AndroidandMe