System-wide audio tweaks: 10 of the best EQ apps for Android
9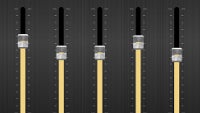 Ah, the modern smartphone – a device jam-packed with features and hardware – a camera, Wi-Fi modem, Bluetooth, IR blaster, at least 2 microphones, antennas, a huge (by outdated standards) display, a battery to juice the whole thing up, and many varying sensors, gizmos, and gimmicks. Among all of a smartphone's components, a loudspeaker must always be fitted – one that makes some noise when you are receiving a call, and that allows you to consume media on-the-go, without requiring you to pull out a headset or any sort of bluetooth speakers.
Now, due to limited size constraints, and the fact that many people choose to buy 3rd party audio solutions, such as bluetooth speakers, or high-quality headphones, manufacturers rarely pay much attention to the sound quality that comes out of their speakers. Yes, some manufacturers do make strides to squeeze out the most out of the limited space and power they have been given – iPhones always sound stellar, and in Android land – HTC and its BoomSound stereo speakers, which adorn most of its upper-midrange and flagship smartphones, is definitely ahead of the competition in regards of sound. However, most of the Android landscape is covered with "acceptable", mediocre, or just plain bad loudspeakers.
And let's be honest – when looking for a new phone, most of us consumers rarely consider the loudspeaker to be a criteria. Still, once we get our hands on the brand-new, shining device, playing through all of its ringtones, watching a few YouTube videos, and loading it up with a few of our favorite songs is usually the first thing we do... and then comes the moment when we realize that the speaker sounds like a raisin rattling inside a tin can (or, it could turn out that the speaker is not half that bad after all).
So, no matter if we have a terrible- or acceptable-sounding speaker, there is always something minor we feel like we wish to tweak in it – just a nudge in the low frequencies, a slight cut in the mids, a slight boost in the highest ones for some brilliance... Well – beauty of Android, folks – there are plenty of system-wide EQ apps available in the Play Store that you can use right now to do just that. OK, so it's both beauty and horror – a lot of them are just plain terrible. But fear not, we are here to give you 10 of the best Android EQ apps that we could dig up from the bunch.
So, without further ado – let's dive right in!