Subscribers to T-Mobile get the premium version of At Bat for free
5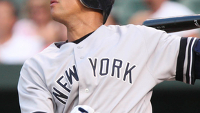 If you're a baseball fan and T-Mobile is your carrier, you should take the mobile operator up on its offer that gives subscribers a free upgrade to the premium version of the At Bat app. This version of
the ultimate MLB app
allows you to listen to both home and away broadcasts of each contest. It also allows you to watch highlights of major league games that are still in progress. You can even view key plays during a game live as they happen.
Other premium features include pitch-by-pitch tracking of every game. And you can also stream the MLB.TV game of the day assuming that it is not blacked out in your area. The normal cost of the premium upgrade is $19.99, and T-Mobile is giving it away free to its subscribers starting today. The offer is available for all Android devices powered by Android 4.0 or higher, and for the
Apple iPhone 4
,
Apple iPhone 4s
,
Apple iPhone 5
,
Apple iPhone 5s
,
Apple iPhone 5c
,
Apple iPhone 6
and
Apple iPhone 6 Plus
running on iOS 7.0 and up. The free upgrade to At Bat premium is also being offered to users of Apple iPad models running iOS 7.0 and up. All of the handsets and tablets must be connected to the T-Mobile network (natch!).
Whether your favorite baseball team is the New York Yankees or the Miami Marlins, the Texas Rangers or the L.A. Dodgers, T-Mobile is making it easier for you to catch every homer off the bat of Giancarlo Stanton or A-Rod and every strong outing from Clayton Kershaw. Check the links below to install At Bat on your T-Mobile branded iOS or Android device.
Download At Bat on your
Android
or
iOS
device.
source:
T-Mobile