Stunt Pilot arrives on legacy BlackBerry devices, obstacle avoiding ensues
0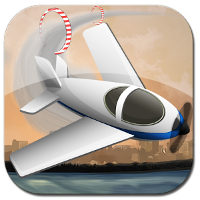 Stunt Pilot, an arcade game that has been around on
BlackBerry 10 for a month now
, has also been released for BlackBerry smartphones, which are powered by version 7 of the BlackBerry mobile platform.
The goal of the game is to guide your stunt airplane through metal hoops, hanged in the sky, while avoiding the vast number of obstacles that stand in your way. During your airborne endeavours you may encounter air balloons, high cliffs, and trees that will cause your airplane to plummet to the ground and burst in flames, if you happen to bruise them even slightly. Hitting the hoops themselves results in your aircraft's swift destruction, too.
Controlling your stunt airplane in the easy-to-learn-yet-difficult-to-master arcade game is quite simple – you can adjust your aerial vehicle's direction via two buttons, and another duo of keys either accelerates or deccelerates your aircraft.
The game comes in two versions – Stunt Pilot and Stunt Pilot: Extreme. The former is completely free to download and play, while Stunt Pilot: Extreme will set you back $0.99, but comes with more levels than its peer.
You can download both versions of the game from the links below: