Stunt Pilot is a free stunt-plane game for BB10 devices
3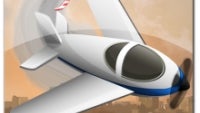 Stunt Pilot is the latest freebie to land in BlackBerry World. The game lets you guide an airplane through rings while maneuvering around airborne obstacles and doing impossible stunts. It features three different modes - Classic, Challenge and Time Mode. Also, there are more than a hundred levels, and each mode brings different obstacles and stunt challenges.
Overall, Stunt Pilot is the kind of time-waster that comes in handy on a short subway trip. And, for the price of free, you can't really fault it. The 12MB game looks fun, has colorful graphics, and includes more content than you'd expect.
Stunt Pilot is compatible with all BB OS 10 devices, namely the Z10, Z30 and PlayBook tablet. Follow the link below to take it for a ride.
Download:
BlackBerry 10
source:
CrackBerry